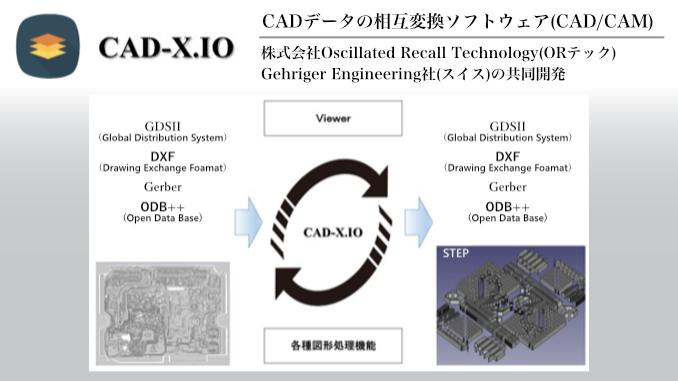 Unipos website, CAD / CAM mutual conversion software for electronic device design / manufacturing CAD-X.IO Page has been added.
CAD-X.IO Is a CAD data mutual conversion software co-developed by Oscillated Recall Technology with Gehriger Engineering (Switzerland). Since it supports the minimum Design-Unit of 1 nm, it can be widely used from semiconductor design to LSI package design and printed circuit board design.
Not only format conversion between GDSII, DXF, Gerber (RS-274X), ODB ++, GDS-TXT (GDSII compliant ASCII format), but also in response to recent design needs, from 2D CAD data to 3D CAD data (STEP) The function to output is added.
Main functions of CAD-X.IO:
1. Mutual conversion of 2D CAD data
Mutual conversion between GDSII, DXF, Gerber (RS-274X), ODB ++, GDS-TXT, etc.
2. Generation of 2D CAD data from 3D CAD data
STEP (2D CAD data) can be generated from 3D CAD data (* can be added as an option), etc.
3. Mutual conversion between CAD data and image data
Edge extraction from image data (BMP, JPEG, PNG, etc.) and CAD data extraction
4. Graphic processing function (various)
1) Graphic processing (Polygon conversion, etc.)
2) Layer processing (single stroke drawing format of single layer figure, etc.)
CAD-X.IO includes maintenance for the first year, and feel free to contact us.