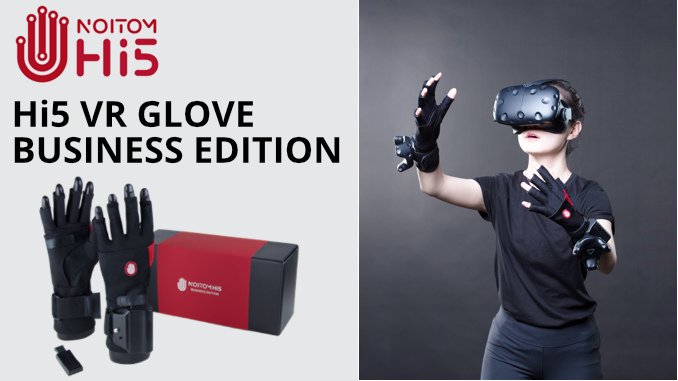 On the Unipos website, the globe-type controller for HTC VIVEHi5 VR GLOVE BUSINESS EDITION"Added.
The Hi5 VR GLOVE BUSINESS EDITION is equipped with a VIVE tracker (or controller) to display the movements of both hands and all fingers in the VR space of VIVE with high precision and low latency (5 ms or less) in real time. It is a globe type controller for HTC VIVE.
A high-precision 9-degree-of-freedom IMU sensor (gyroscope, accelerometer, inertial measurement device with magnetometer) is built in at the fingertip, and a vibration function that operates according to various programs is installed at the wrist position. It uses AA batteries to power it, and the connection to the PC is 3GHz wireless. It includes Unity and UNREAL ENGINE SDKs for developers, so you can import and run them on various projects.
About Hi5 VR GLOVE BUSINESS EDITION
Major features:
・ Replaceable battery
Designed for continuous playback. Operates only with replaceable AA batteries. No charging time required.
・ Low latency
Immerse yourself in virtual reality with high precision and seamlessness.
·hygienical
Eco-friendly elastic material has quick-drying, antibacterial and breathable properties.
・Haptic feedback
Programmable vibration on each wrist provides tactile feedback to enhance effectiveness during the VR experience.
・ Full finger tracking
Full support for hand and finger movements with both or one hand.
Easy calibration by plug and play.
・ IMU sensor technology
High-precision 9-DOF IMU sensor (gyroscope, accelerometer, magnetometer).
specification:
– Sensor: 9 degrees of freedom IMU (Ultra-low Hysteresis)
– Battery life: Approximately 3 hours (2100mAh AA) * Alkaline AA batteries (1 used for each glove)
– Supply voltage: 1.1 to 1.5V (glove), dongle (USB2.0) 5V (<5ms * depends on communication conditions)
– Output data rate: 180Hz
– Communication method: Wireless communication (between glove and dongle) 2.4GHz radio frequency
– Radio frequency performance: Work area 5m x 5m (up to 6 people can be supported simultaneously in the same location)
– Vibration feedback: Programmable vibrator on each glove (wrist)
– Glove material: Antibacterial, breathable elastic fiber * May fade due to aging, etc.
– Weight: 105g (gloves only)
set content:
– ODrive v3.6 board
– Power resistor (for brake energy dissipation)
–USB cable
– Heat sinks
– Some nylon standoffs