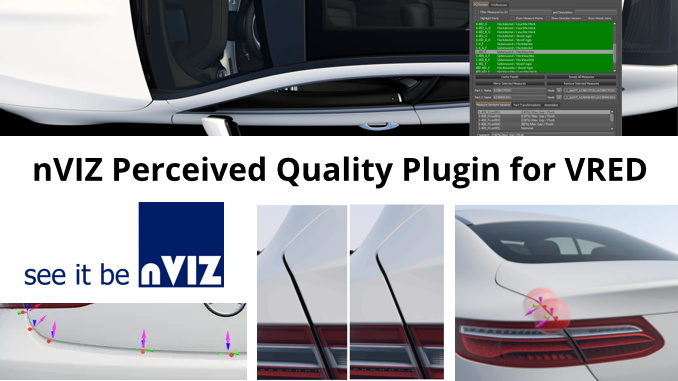 The Unipos website offers a perceptual quality plugin for Autodesk VRED.nVIZ Perceived Quality Plugin"Added.
nVIZ Perceived Quality PluginIs a plugin for Autodesk VRED for car designers that helps improve perceptual quality during virtual prototyping.
CAD design and 3DCS imported body and gap between adjacent surfaces (panels) like rear hatch and flash (surface alignment) data are used for direction vector inspection and morphing to different tolerances. I will. Directly deforming body panels can be compared in real time in a VRED scene (Design view), allowing engineers and managers to quickly evaluate VR panel gap dimensions and orientation vectors.
nVIZ is a company that develops plugins for Autodesk VRED, VR applications such as styling, engineering and marketing, and efficient digital prototyping process. In addition to VR applications, we have more than 30 years of experience and unique expertise in acoustic, fluid dynamics, durability, motion, structural and thermodynamic simulations.
nVIZ Perceived Quality Plugin for VRED Features/Functions
Fully compatible with Autodesk VRED plugin (PQ plugin). Optimize VRED to help in the automotive design process. Visualized in a V VRED scene, you can easily inspect the position of measurement points, direction vectors, and morphing zones.
[Main function]
・ Gap / Flush Data
・ Cache Panels Function
・ Gap and Flush Variants
・ Measure Points
・ Part Transformations
・ Combinations of Gap / Flush / Transformation Variants
・History For Real-time AB Gap or Flush Comparison
Please feel free to contact us for other nVIZ products.
Product Line:
・ Test Driving in Virtual Reality
・ PLM for Virtual Reality
・ Plugins for Autodesk VRED
– NVIZ Motion for VRED
– NVIZ Advanced Cameras for VRED
– NVIZ Perceived Quality Plugin for VRED
– NVIZ Ergonomics for VRED