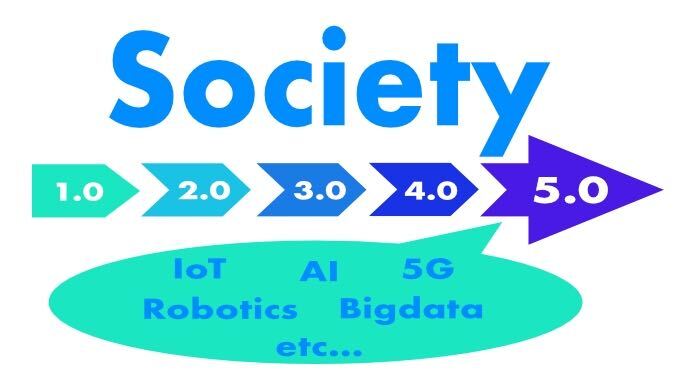 Society 5.0 is part of Japan's growth strategy
In the Reiwa 2 tax reform, measures were implemented to promote growth investment, including the open innovation promotion tax system. This is a measure for encouraging large companies to invest in venture companies, and is part of a follow-up to growth strategies aimed at realizing "Society 5.0" advocated by the Cabinet Office.
The aim is to encourage the introduction of 21G, which is expected to be safe and reliable as the basic infrastructure of the 5st century, by allowing large companies to actively invest in venture companies that conduct research and development of cutting-edge technologies. There is.
Since the use of 5G technology may solve various problems faced by local communities, we will strengthen the international competitiveness of the Japanese economy by encouraging corporate internal reserves to invest in tax reform. Become.
What is Society 5.0?
You can think of Society 5.0 as part of the process for achieving the "SDGs". The SDGs are described in the "2015 Agenda for Sustainable Development" adopted at the International Summit in September 9, and are the 2030 international goals that we aim to achieve by 2030.
In order to realize a society in which no one is left behind, Japan will accelerate the deployment of the "Japan SDGs model" with three pillars as the core.
1. Business and Innovation ~Promotion of "Society 5.0" linked with SDGs~
2. Regional revitalization driven by SDGs, strong and environmentally friendly attractive town development
3. Empowering the next generation of women as a leader in SDGs
The role Japan plays in achieving the Sustainable Development Goals (SDGs) (Global Affairs Division, International Cooperation Bureau, Ministry of Foreign Affairs of Japan)
https://www.mofa.go.jp/mofaj/gaiko/oda/sdgs/pdf/2001sdgs_gaiyou.pdf
As mentioned above, Society 5.0 is a measure to aim for a new society, but let's look at it more concretely.
Society 5.0 itself was described in the Cabinet Office's 5th Science and Technology Basic Plan as "A human-centered society (Society) that achieves both economic development and resolution of social issues through a system that highly integrates cyber space (virtual space) and physical space (real space)Is defined as
Cabinet Office 5th Science and Technology Basic Plan
https://www8.cao.go.jp/cstp/kihonkeikaku/5honbun.pdf
Hunting society (Society 1.0),Agricultural society (Society 2.0),Industrial society (Society 3.0),Information society Since it is a society proposed as a new society following (Society 4.0), it is positioned as "5.0".
In the current information society (Society 4.0), a lot of information is overflowing, but it is difficult to extract the actually necessary information and use it across different fields, and the amount of information that can be processed by human hands. Has become a bottleneck for data utilization, and there are various issues such as restrictions on the scope of work and activities due to age and disability.
On the other hand, Society 5.0 aims to overcome the declining birthrate and aging population, depopulation of rural areas, income disparity, etc. by using the latest technologies such as AI, IoT, cloud, drones, autonomous vehicles, and unmanned robots, while being based on the information society. It's going to happen. The ideal vision for Society 5.0 is a society in which each and every individual can play an active role comfortably.
How cutting-edge technology is used
It is expected that research and development will accelerate in the future to realize Society 5.0, even for new technologies that have not been put to practical use at this point.
Medical
In today's society, the marginal settlements and the declining birthrate and aging population are progressing, especially in areas far from the metropolitan area, and the issue is how to provide independent living and medical care for the elderly.
In Society 5.0, AI analyzes information such as medical field information, environmental information, and real-time biometric data to enable real-time automatic medical examinations, early detection of diseases, optimal treatment by sharing medical data, and medical/nursing care. You will be able to support robots in the field.
Healthcare in Society 5.0 (Japan Business Federation)
https://www.keidanren.or.jp/policy/2018/021_honbun.pdf
An example of biosensor technology
Transportation
Current traffic issues may include route planning when going out, traffic congestion prediction, traffic accidents, and securing means of transportation in the first place, but with Society 5.0, the traffic scene will change.
AI comprehensively analyzes big data such as car sensor information, weather and traffic, other accommodation and food service information, past history and database, and of course, aids in movement, mitigation of accidents and congestion Supports smooth movement in cooperation with public transportation and car sharing. It is also expected to stimulate regional development by proposing tourism routes according to user preferences.
MLIT Data Platform Development Plan (original draft) (MLIT)
https://www.mlit.go.jp/common/001283032.pdf
An example of technology related to autonomous driving
Disaster prevention
Even now, when a natural disaster occurs, emergency bulletins are posted on smartphones, etc., but with Society 5.0, optimization will be promoted in evacuation guidance as well as rescue and rescue of victims. In addition, issues such as quick rescue of victims and optimization of the contents and timing of relief supplies for evacuation centers will be further optimized in Society 5.0.
In terms of understanding and observing the disaster situation, data from artificial satellites and weather radar on the ground, drone enables swift information collection and analysis, and more detailed damage information and traffic conditions can be obtained by sensors of buildings and vehicles. Will be provided.
Also, in recent disasters, information sharing about the acceptance status of evacuation centers and lack of supplies has become a problem, but AI analyzes information to provide optimal evacuation information to personal smartphones and robots. It will be possible to use the drone for quick rescue, and even for areas where traffic is divided, delivery of relief supplies by drone is possible.
Society 5.0 Cases of New Value (Disaster Prevention) (Cabinet Office)
https://www8.cao.go.jp/cstp/society5_0/bosai.html
An example of a four-legged robot
Agriculture:
In the agricultural field, labor shortages have become an issue due to factors such as the reduction of workers and the aging of the population. Moreover, the work area per person tends to increase with respect to farmland, and technological innovation is required to improve work efficiency.
In Society 5.0, automation and labor saving by robot tractors and harvest combine, automatic collection of growth information by drone, automation and optimization of water management based on climate forecast and river information, harvest adjustment and weather according to market needs It is expected that super labor-saving and high-production smart agriculture such as work plans according to forecasts will be started gradually. For such efforts, the utilization of AI and big data based on the agricultural data collaboration platform is essential.
Society 5.0 Examples of New Value (Agriculture) (Cabinet Office)
https://www8.cao.go.jp/cstp/society5_0/agriculture.html

What is the standard "ISOBUS" that is indispensable for data linkage between working machines and tractors [Special feature: Challenges of the northern land (10)] (SMART AGRI)
https://www8.cao.go.jp/cstp/society5_0/agriculture.html
Smart related agricultural technology (leaf sensor)
Smart related agricultural technology (ISOBUS)
Farmland survey
Utilization in other scenes
In addition to the above, in various scenes, people and things will be connected and various information will be shared and utilized.
Remote communication 
Telepresence robot:
LiDAR (sensor module)
ROS-enabled 2D distance sensor (LIDAR):
Solid-state LiDAR sensor module:
IoT
Development board with Google Edge TPU:
Surveying
3D modeling software:
Data reception board from satellite positioning system:
Society 5.0 Challenges
There are many expectations for the development and utilization of new technologies and changes in lifestyle in Society 5.0. However, on the other hand, it is necessary to consider risks that have never existed before.
Issues that are particularly easy to understand are cyber security, personal information, and technical issues.
Cyber ​​security
As information is digitized and shared in various situations, it becomes necessary to manage data in many situations in daily life. Conventional security measures that prevent external attacks are also effective, but when the number of devices that connect to the database using IoT and other technologies becomes enormous, it seems necessary to consider new risk countermeasures.
The damage caused by cyber attacks in Society 5.0 is not limited to the stoppage of services, but it also poses a risk of serious damage to linked databases and other services.
Personal Information
Even now, Google is still collecting personal information, and although there are pros and cons, it is being used for various services, so I think that some people are merging.
In Society 5.0, we will increase the sharing of personal information and share it across fields and services. Therefore, we will convert personal privacy information into data and use it across fields. In addition, there will be an increasing number of situations in which people are forced to agree on the sharing and use of personal information on a daily basis.
There are various ideas regarding the provision of personal information, but what kind of regulations should be established between the person who provides the data and the person who manages the data and the party who provides the service seems to be an important issue.
Technical aspect
Currently, the most famous big data companies are US companies such as Google, Amazon and Facebook. The share of Japanese companies in the field of industrial robots is high, and while Japan's technological capabilities are at the highest level in the world, not only big data and robots, but also various cutting-edge technologies such as AI and communication technology. It can be said that this is a situation where we cannot help but expect growth in the future, considering that we will link the two to make them into a platform.
In order for Society 5.0 to aim to innovate society as a whole, it is necessary not only to make individual efforts by each company, but also to strengthen cooperation between the country and companies.
Summary
Society 5.0 is a "human-centered society" that uses AI, big data, sensing, and remote technologies to create an environment and mechanism in which each person can live comfortably and improve Japan's competitiveness in the world. Thing.
We will use the latest technology to think about how to share various types of information and how to utilize it, rather than in a society that is left to AI.
Although there are many merits, cyber security and handling of personal information can be said to be a major issue for the latest technology to permeate society.Therefore, in consideration of measures, how to face each person's information Change may be needed.
However, if Society 5.0 can be realized in an ideal form, it is possible to think of not only solving international competitiveness, but also spreading that technology to the world and solving global problems. ..
Demonstration tests have already been conducted on autonomous driving of cars, and some technologies are gradually becoming more realistic. To realize Society 5.0, Tegara will also aim to provide information on new products and technologies and services that meet their needs.