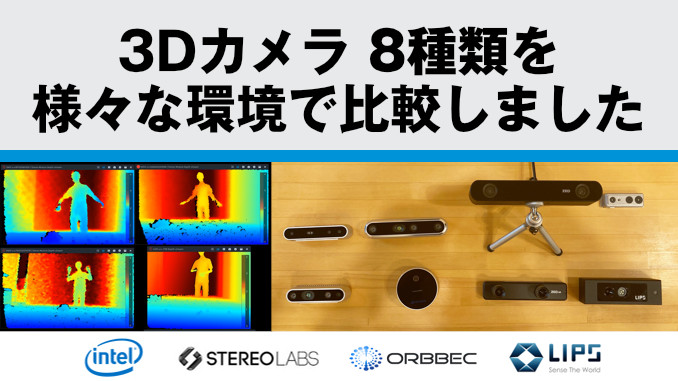 Our overseas product procurement and consultation service for R&DUniposIn ", we handle various 3D cameras including RealSense.

However, there are many types of 3D cameras, and I think that it is difficult to understand what kind of characteristics each has and what makes it difficult to choose. Therefore, we will compare and verify the following 8 types of models that are actually used in our company in several environments and introduce them.
*This article is based on this verification video. I think that it is easier to understand the actual operation in the video, so please also see this if you like.
[Comparison of 8 types of 3D cameras] I tried to operate in various environments such as RealSense and ZED Depth Camera Compare in various environment
About the verifier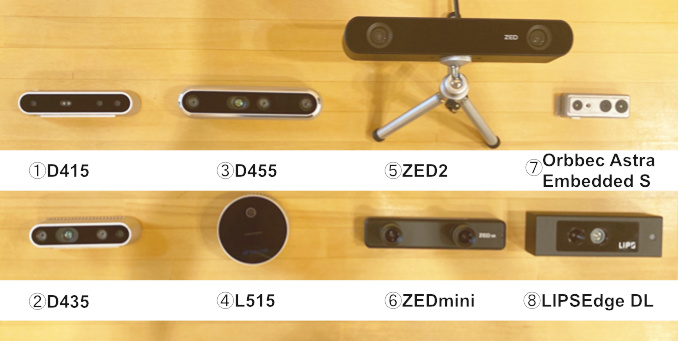 *Click each product name to go to Unipos WEB product page
Verification environment: A.

Outdoors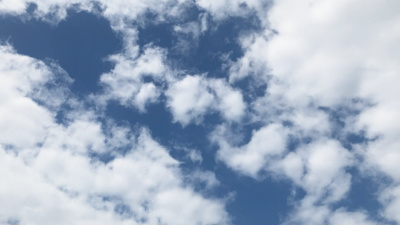 The shooting date was August 2020, 8 (Saturday), the shooting location was in Yamagata Prefecture, and the weather was cloudy with occasional temperatures of 22°C to 25°C.
The specifications of the computer that connects the 3D camera are as follows.
| | |
| --- | --- |
| CPU | Intel Core i9 9900K (3.60GHz 8 core) |
| memory | 16GB |
| But by the full GPU acceleration tech | NVIDIA Geforce RTX2080Ti 11GB |
| OS | Windows 10 Professional 64bit |
The positional relationship between the camera and the subject (person) is as follows.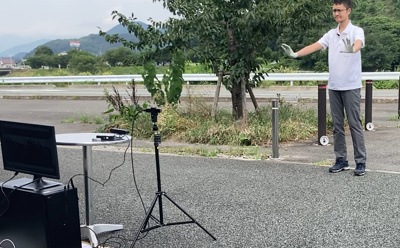 Intel RealSense series
The RealSense series was able to acquire data in this way.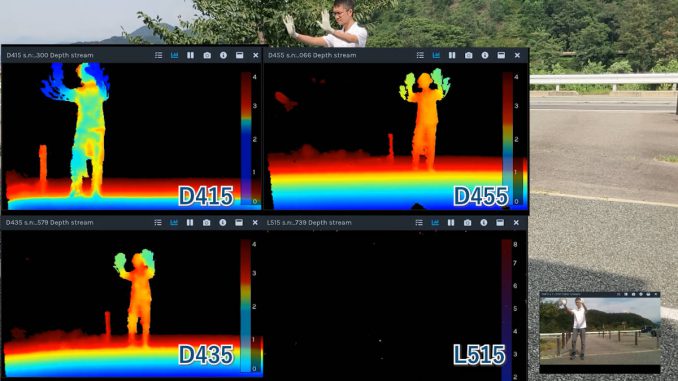 D415, D435, and D455 were able to obtain data, but L515, which is intended for indoor use, could not obtain data.
Stereolabs ZED series
Each ZED 2 / ZED Mini was able to acquire data in this way. You can also see the position of the pole standing behind.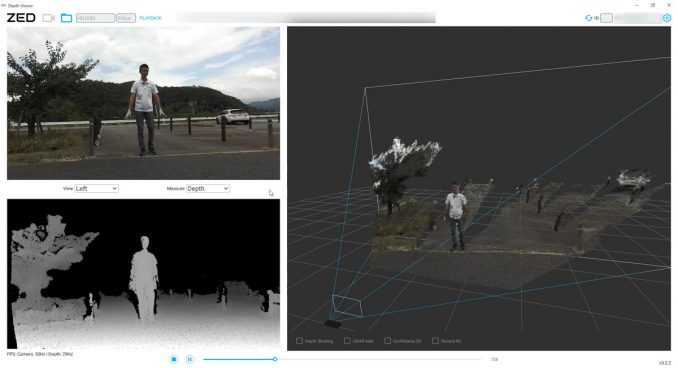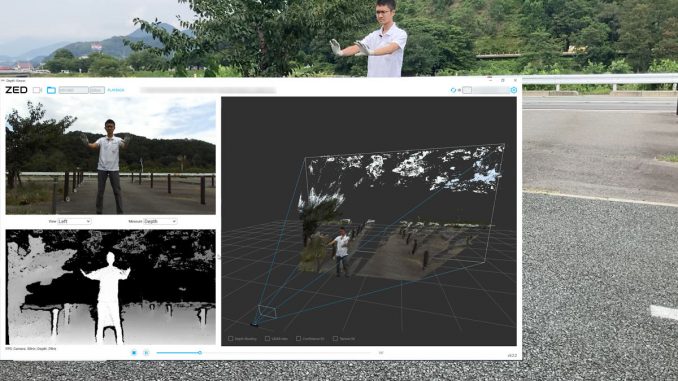 If the acquired data is too bright (white shirt appears), there may be no parallax between the left and right cameras (*), or the distance may not be obtained. You may be able to obtain it by changing the camera settings to the settings that match your environment.
(*ZED series is a passive stereo type 2D camera that acquires depth information by parallax of two cameras.)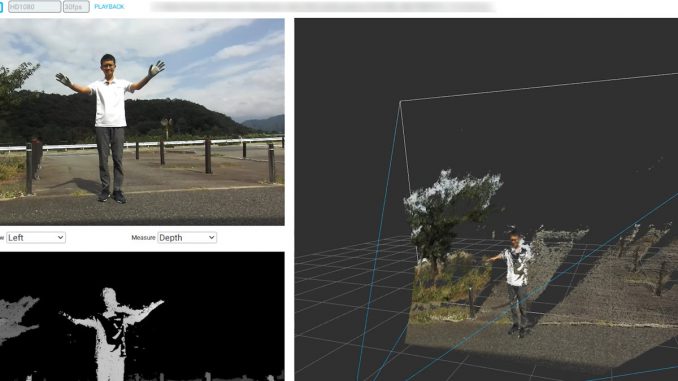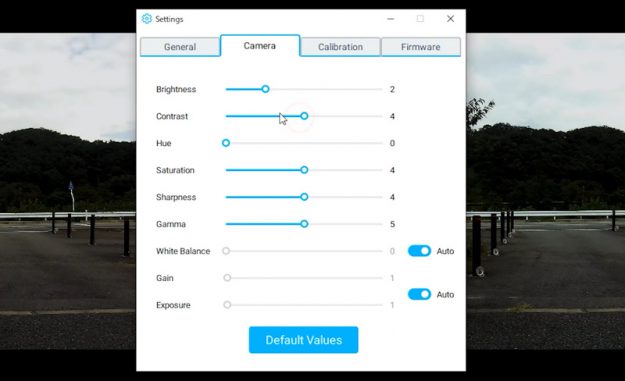 Orbbec Astra Embedded S
Astra Embedded S can acquire data in this way.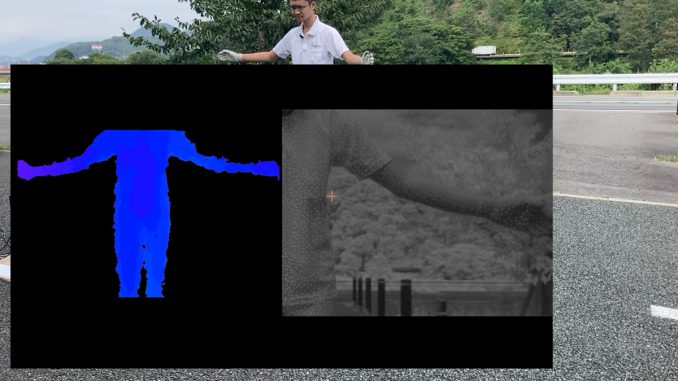 This is a product for short-distance (0.25m-1.5m) applications, but it seems that it can be used outdoors if the distance is short.
LIPS Corporation LIPSEdge DL
LIPSEdge DL is an indoor product, so we could not get data properly outdoors.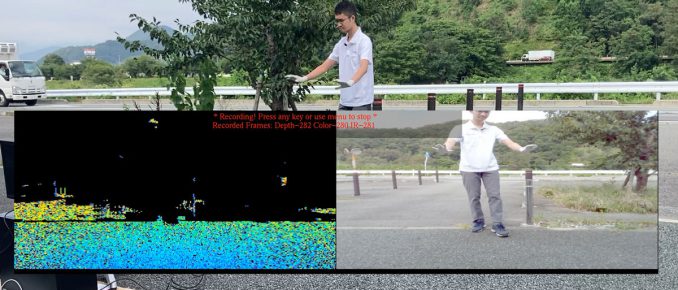 As a reference, when shooting with the cardboard, when changing the angle of the cardboard toward the camera, data may or may not be acquired depending on the angle, so it is affected by sunlight (after object reflection) It seems that there is.
★ Continued from the next edition
Next time, I would like to show you how to perform a comparative verification of the same 8 types of 3D cameras as this time, "indoors."
I actually examined the questions such as "what happens when I shoot a black object", "how the mirror is recognized", and "does it work in a dark room?" so please look forward to it.
I can't wait to release the indoor edition! Those who say ... have already released it in the video, so I hope you only see it.
[Comparison of 8 types of 3D cameras] I tried to operate in various environments such as RealSense and ZED Depth Camera Compare in various environment