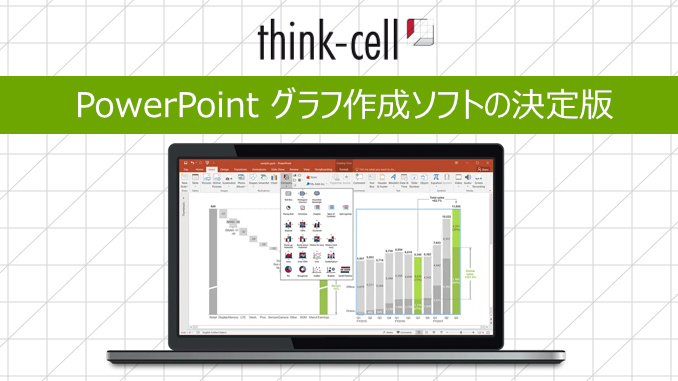 What is think-cell chart?

think-cell chart is software with excellent graphing and layout capabilities that automates PowerPoint tasks and improves the efficiency and quality of slide creation.
Despite its simple user interface, it is a very popular product because it contains more than 40 graphs and many other features.
In the video introducing the manufacturer below, you can imagine what kind of software it is (the image of using it on PowerPoint will be introduced from around 0:30 in the video).
think-cell | The # 1 charting software for PowerPoint
We started handling it about 10 years ago, but the number of inquiries is increasing year by year.Not only is it easy to use, but it is also related to the affordable price, knowledge base, case studies, and the amount of information on the extensive manufacturer page.In addition, the Japanese page has been created in the last few years, and it seems that more customers are familiar with the think-cell chart.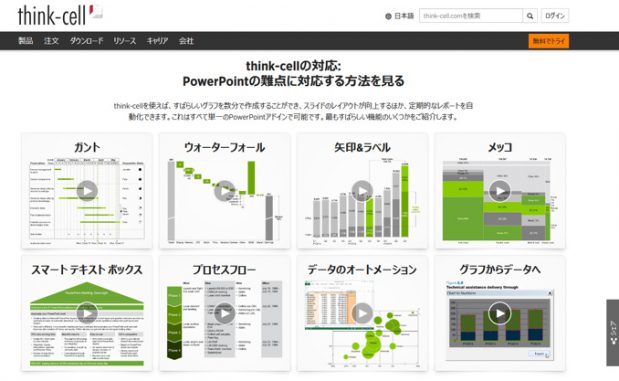 Used in these industries and fields
The think-cell chart is only one of the most popular products in the consulting industry, and management consulting companies were the main target.However, it is now a popular product for business unit customers who create presentations and graphs in various industries.
Examples of industries where think-cell charts are used:
Consulting and advisory services
Consumer products and services
Corporate Communication Agency
Education and research
engineering
Financial services
Healthcare
Resource utility
Telecommunications / logistics
Manufacturer WEB siteHere is an example of users from all over the world who are actually using the think-cell chart.
Precautions regarding license purchase
Most of the customers who purchased think-cell chart at our company continue to use it after the second year. Since the think-cell chart is an annual license, a new license key will be issued each year even for continued use.It should be noted thatThe minimum ordering unit is a 5-user license.Please be careful.
In addition, there is one more note.
There are two options for purchasing the think-cell chart: directly from the manufacturer or through a retailer like us.
The account will be managed by a representative with administrator privileges, but if you purchase a license through a retailer, that account will be linked to the retailer.
For this reason,If the representative has purchased a license other than us in the past, basically we cannot purchase the license...You need to purchase it at the store where you purchased it.
Also, please note that if you want to switch to purchasing via us, you need to explain directly to the manufacturer.
You can try think-cell chart for free for 30 days by requesting from the manufacturer page below (only your email address is required).
Please use it and experience the goodness of think-cell chart.
We also welcome inquiries to us.