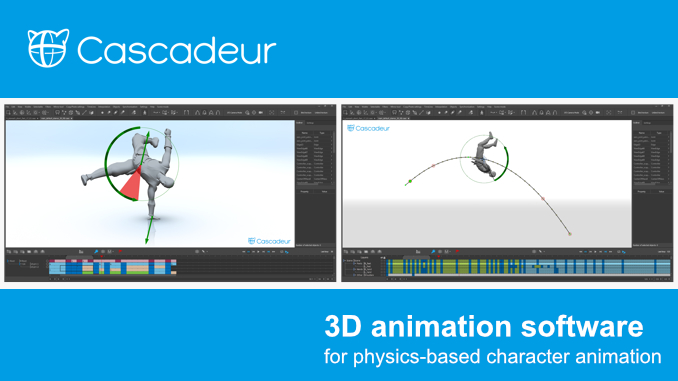 Physics-based 3D animation software on the Unipos website,Stuntman Page has been added.
Cascadeur is a standalone animation software that creates keyframe animations for 3D characters, humanoids, and more.Using a unique physics-based approach and deep learning tools, you can create realistic action 3D animations with the laws of physics applied, either by scratching or by modifying existing motion capture data.
It also supports .FBX and .DAE files and is compatible with various programs such as Unreal Engine, Unity, Autodesk 3DS MAX, MAYA and more.
Cascadeur Early Access Product Demo 2021
Early Access version available as of July 2021
License type
Cascadeur Basic
License for individuals and small animation project teams (free license applicable if revenue is less than $ 10 per year)
Complete animation toolset
Export max 300 frames and 120 joints limit
Regular support
Commercial use (for revenue <$ 100k / yr)
Give credit for using Cascadeur
Cascadeur Pro
Complete solution license for professional animation
In addition to the contents of the Basic license:
Unlimited export
Priority support
Scene linking tool
Unlimited commercial use
Cascadeur Business
Licenses for teams and businesses that require personalized support
In addition to the contents of the Pro license:
Dedicated chat support
Dedicated success manager (min 3 licenses)
Influence on feature development priority
Cascadeur Enterprise
Enterprise licenses that require additional control or support
In addition to the contents of the Business license, we can provide custom services according to the specific needs of the user.
After coordinating the details with the manufacturer, the license price etc. will be calculated.