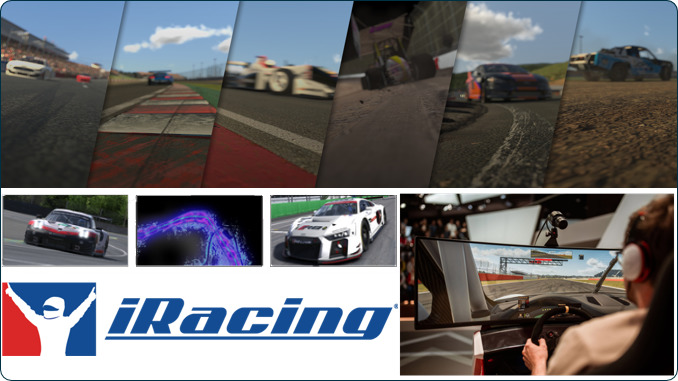 Motorsport Racing Simulator on Unipos website iRacing Page has been added.
The best motorsport racing simulator in the world.Select a model from the two major motor sports NASCAR and IndyCar in the United States, Australian supercars, World of Outlaws sprint cars, sports cars, IMSA prototypes or touring cars, GRAND PRIX CAR, etc. You can experience virtual racing on the track where the race is actually taking place.
iRacing is also used in home-use, commercial, and racing game competitions, "e-motorsports."
Major features
・ Direct confrontation type where you can experience the realism and thrill
・ Experience racing on more than 70 realistically reproduced global tracks
・ You can select the model from the best selection of a wide variety of cars (racing cars).
・ Advanced and sophisticated sim racer
-Compatible with virtual reality headsets
… Oculus Rift (CV1, S) / HTC Vive (and Vive Pro) / Pimax (5k and 8k)

About License
-Basic memberships / Personal and non-commercial licenses with free content
-Commercial iRacing license / Commercial license with all content
content
– 16 Laser Scanned Cars Available for Free
– 22 Laser Scanned Tracks Available for Free
– Over 80 Official Series to Compete In
– Unlimited racing against real people from around the world
– Over 400 private leagues
– Full racing and website functionality including ghost racing, stats, teams, etc.
System requirements
With a computer for iRacing with a USB connector, an internet environment, a racing wheel (handle controller) and pedals, anyone can participate in virtual racing and enjoy a comfortable and realistic racing experience.
Recommended system requirements
- Operating System: Windows 10 64 bit
- Processor (CPU): 6 Cores
- Memory (RAM): 16GB, High End: 32 + GB
- Graphics (GPU): 6GB Dedicated vRAM
- Storage (Available HDD Space): 50GB (For all cars and tracks)
- DirectX: DX11 (Minimum)
- controller: Steering wheel & pedal set
- Internet Browser: Google Chrome or Firefox (Minimum)
- Internet Connection Speed: DSL, Cable, Fiber, 256k or faster is supported (Minimum)
* Can be executed with Apple's Boot Camp utility
iRacing How-To | Downloading the Software and Getting On Track