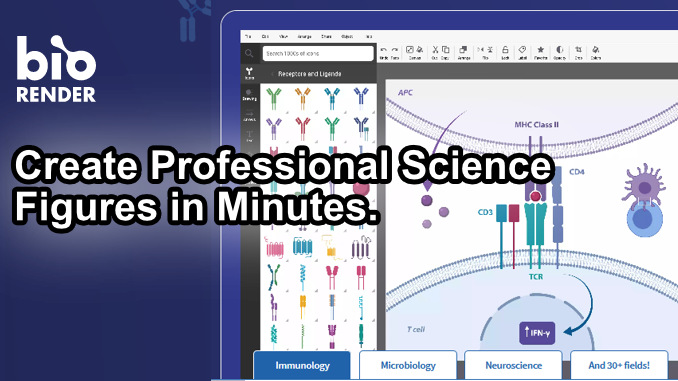 Illustration tools for the life science field on the Unipos website BioRender Page has been added.
BioRender is a tool for drawing high-quality, easy-to-understand illustrations such as schematic diagrams in the field of life science.
A web-based application that leverages BioRender content with a wealth of icons and various life science templates to create professional scientific figures such as illustrations, images, shapes and designs, drafting, and graphics in minutes.
BioRender Overview
Browse thousands of ready-made icons and templates from over 30 areas of life sciences.Anyone can easily express digital contents for scientific communication activities without drawing or design skills, and it will be useful for basic research and industrial applied research such as lectures, publications, presentations, posters, patents, outreach, etc. I can.
Main functions
Icons and templates
Library with over 20,000 icons
Icon search for more than 30 life science fields (neuroscience, immunology, microbiology, etc.)
Editing and customization
Drag and drop function
Flexible export (for publications, presentations, web, or print) etc.
Safe environment
A web-based application that can permanently store illustrations
Sharing illustrations within a lab, team, or organization
About the life science field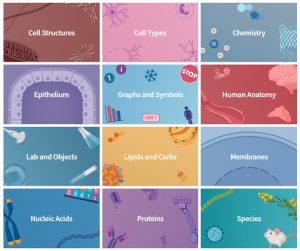 You can browse icons in more than 30 life science fields including neuroscience, immunology, and microbiology.
Cell structure: Cytoskeleton and ECM, organelle
Cell type: epithelial cells, generic cells, immune blood cells, various cells
Chemistry: Biochemistry, Molecular Model Kits, Nanoparticles, Structural Formulas
Graphs and symbols: Callouts and banners, graph icons, lists and numbers, symbols
Human anatomy: skeleton, muscles, lymph, respiration, reproductive system, etc.
Labs and Objects: Lab equipment for procedures and protocols, ecology, etc.
Lipids and Carbohydrates: Monomers and Polymers of Lipids and Sugars (including top and cross sections)
Membrane: Bacteria, nerves, nuclear envelope, etc.
Proteins: Antibodies, enzymes, generic proteins, transporters, etc.
Nucleic acid: DNA, RNA, nucleotide bases, plasmids
Race: From viruses to primates, including common model organisms, fungi, arthropods, reptiles, etc.
About License
BioRender is available from 1 user with an annual license.
It will be handled from 2 users or more(*Added June 2022)
License type:
Academic license (Academic license)
If you belong to a university, research institution, hospital, or government agency
Industry license (Commercial license)
If you belong to a for-profit or private company, or use BioRender for commercial purposes
* We do not handle monthly subscriptions.
Handling license:
Academic Individual License : For individual scientists and researchers
Academic Lab License : For teams that collaborate and manage in one place
Academic Institution License : For large departments and organizations
Industry Individual License : For individual scientists and researchers (commercial)
Industry TEAM License : For teams that collaborate and manage (commercial)
Industry Enterprise License : For large teams and businesses (commercial)
* For details on the functions of each license Click here for more information. Please refer to