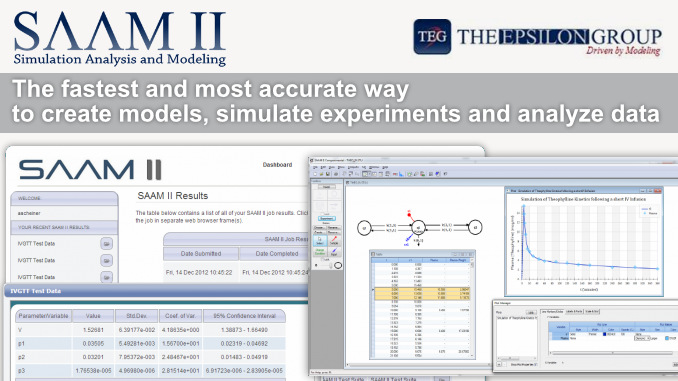 Modeling and simulation analysis software for drug development and pharmacokinetic research on the Unipos website SAAM II Page has been added.
SAAM IIIs a modeling and simulation analysis software that supports the development and statistical calibration of compartment models in biology and drug development.
Used by more than 7,000 pharmaceutical, biomedical and bioengineering professionals worldwide, it is used in a variety of research, development and education.
SAAM (Simulation Analysis and Modeling)

Adopted state-of-the-art algorithms and numerical and statistical methodsSAAM IIThe easy-to-use and easy-to-learn GUI allows anyone, regardless of knowledge level, to easily define models, run simulations, and analyze results quickly.Examples of dynamic systems that can be modeled are compartments, fluxes, extrinsic inputs, sinks, delays, and so on.
Models and simulations generated using SAAM II will be linked to experiments to deepen understanding of the role of subanalysis such as plasma, kinetics, and relative importance, as well as various interventions during therapeutic research and development. Helps assess and understand the safety, effectiveness, and limitations of.
Data, modeling, control, and analysis can all be viewed in one window, increasing modeling time productivity and allowing you to respond quickly and flexibly to changing conditions.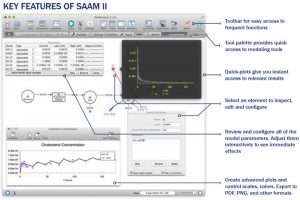 About main features and functions

Experimental simulation with synthetic data:
Synthetic data can be generated from various error models and incorporated into existing models in a flexible way.
Sensitivity analysis:
Gain a better understanding of the sensitivity of the model to changes in key parameters

Batch processing:
You can analyze multiple datasets and automatically generate output including plots etc.
Features related to data and parameters:
Input directly from the data window, load from the application, a system of differential equations automatically generated based on the compartment model, various parameter definitions, etc.
General features:
Accurate optimizer for calculation optimization, weighting estimation, parameter embedding, documentation with user notes, experiments (setup, conclusions, etc.)
Flexible output method:
Displaying findings (plots or lists), exporting to applications, various calculations (correlation matrix, covariance matrix, and objective function statistics), etc.
Compartment modeling:
Point-and-click setup, automatic generation of simultaneous equations from model structure, definition of change conditions, flexible input function, etc.
Numerical modeling:
Define numerical models directly, useful numerical applications, equation sets, etc.
For details, click here for the manufacturer page (PDF download)Please refer to.
About License
SAAM IIPermanent license for single users.
As of September 2021, V9 is only available for Windows. Please wait for the official release of the manufacturer for Mac OS.
For products of The Epsilon Group other than SAAM II,
please feel free to contact us.