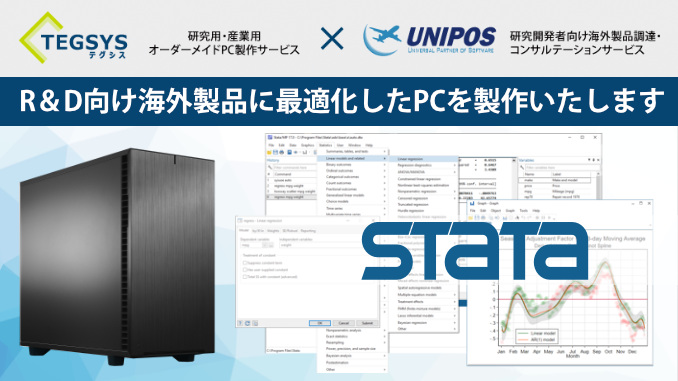 Procurement of overseas products for R & D and PC production service with optimal configuration for its use
Custom-made PC production service "Tegusis"Overseas product procurement and consulting service for R & D"UniposIt is possible only because Tegara provides two types of services, ""Purchasing overseas products for R & D and manufacturing custom PCs optimized for their useWe would like to introduce a one-stop service called ".
For example, a PC is required to run the software, and specialized software may have the necessary conditions (* memory capacity, installation of a high-end video card, etc.).One of Tegara's strengths is that we can provide a set of products procured from overseas and the most suitable PC for its operation, eliminating the need to search for a PC that meets such conditions.
This time, the statistical analysis software "Unipos" has been handling for a long time.BeenWe will guide you to the best machine to use.
About Stata

It's an integrated statistical software package that includes everything you need for data science and inference, with features such as modeling, charting, as well as data analysis and data management.
In addition to GUI operation with a mouse, it can be executed with powerful and intuitive command syntax, so it is easy to use, fast and accurate.
Hundreds of statistical tools for various disciplines are available, including behavioral science, epidemiology / biostatistics, economics, education, political science, public health, public policy, sociology, finance / business, and Statistical analysis is possible in all fields such as marketing.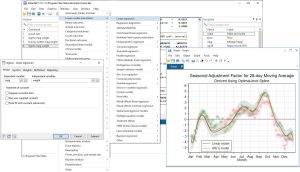 Main statistical functions
Linear model, panel data / longitudinal data, multi-level mixed effect model, selection model, ERM (extended regression model), GLM (generalized linear model), FMM (finite mixed model), spatial autoregressive model, ANOVA (analysis of variance) / MANOVA (Multivariate Analysis of Variance), Epidemiology, DSGE Model (Dynamic stochastic general equilibrium model), Test / Prediction / Effect, Contrast / Pairwise Comparison / Margin, Resampling and Simulation Method, Multivariate Method, Time Series, Survival Analysis, Bayesian Analysis, Metaanalysis, Detectability / Accuracy / Sample Size, Treatment Effect / Causal Inference, Lasso (Nagenawa), SEM (Structural Equation Modeling), Latent Class Analysis, Multiple Substitution, Investigation Method, Cluster Analysis, IRT (Item Reaction Theory), Network Analysis, etc.

* For other functional details, please seeHere (list of functions) for more information.
Edition type
You can choose from three editions (packages) of Stata / MP, Stata / SE, and Stata / BE according to the scale of data and the number of processes.
Stata / MP: For large data sets and when parallel processing requires high-speed analysis
Stata / SE: For large datasets
Stata / BE: For medium-sized datasets
About Stata / MP
Stata / MP is an edition for maximizing the use of multi-core and multi-processors, and licenses can be provided according to the number of cores.
Performing computationally intensive tasks on all cores of your computer can significantly speed things up.Stata / SEComparing the processing speeds of Stata / MP and Stata / MP, Stata / MPRelatively cheapApproximately 2-33% on a 50-core computer, approximately 4-50% on a standard 75-core computer, required for analysisYou can save time.
Note that Stata / MP can process even faster on workstations and servers with multiple processors (supports up to 64 cores / processor).
* Click here for details on processing performance Performance of Stata / MP ( PDF download ) Please refer to.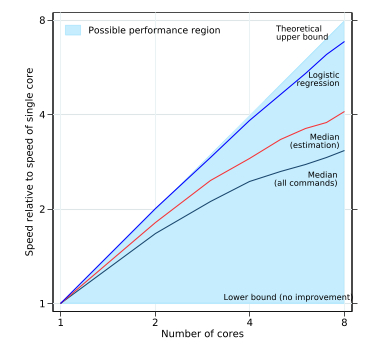 It also depends on the amount of RAM available in the system.,Stata / MP supports even larger datasets than Stata / SE.
Whereas Stata / SE can analyze up to about 21 billion observations (multiple records) and up to 32,767 variables.Stata / MP can analyze 100 to 200 billion observations, up to 1 trillion observations depending on the hardware configuration of the computer, and up to 120,000 variables.
Note that Stata / MP is compatible with other editions of Stata. No analysis needs to be reformulated or modified to speed up Stata / MP.
| | | | |
| --- | --- | --- | --- |
| Edition | Maximum value of variable | Maximum value of independent variable | Maximum value of observation data |
| Stata / MP | 120,000 | 65,532 | 200 billion * |
| Stata / SE | 32,767 | 10,998 | 21.4 billion |
| Stata / BE | 2,048 | 798 | 21.4 billion |
* The maximum value of observation data is limited by the amount of RAM available in the system.
This content is based on Stata / MP is the fastest and largest edition of Stata.
https://www.stata.com/statamp/
For details of each edition Here (comparison table)
PC with optimal configuration for Stata
This time, we will introduce a model (*) that can support all editions of Stata based on intel Core i9, and a model for Stata / MP based on AMD Ryzen Threadripper that operates fast and comfortably even with a large data set. We have prepared.
* Since Stata / SE and Stata / BE do not support parallel processing, please refer to the first model that uses a clock-oriented CPU (Core i9 11900K maximum clock 5.3GHz) (this model is Stata / MP). But it can support up to 1 core licenses).
Stata machine configuration example
Both models are equipped with sufficient memory according to the number of cores in consideration of operational comfort when using, so we consistently handle everything from standard analysis to those that require complex and sophisticated analysis. You can do it.
Of course, we can also respond with specifications and configurations that meet the needs of our customers, so please feel free to contact us.