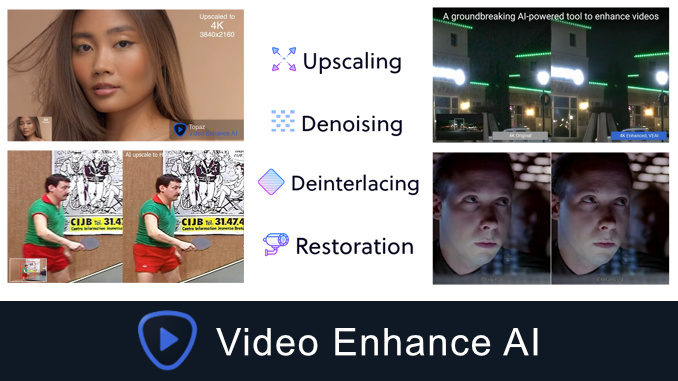 Video quality improvement software using AI on the Unipos website Video Enhance AI Page has been added.
Video Enhance AI is video quality improvement software that uses AI technology.
By using the temporal information of multiple frames in the quality improvement process of video that is more complicated than photos and images, the main functions of Video Enhance AI are "upscaling: high resolution" and "denosing". High-end results of: noise removal, deinterlacing: deinterlacing, and restoration: restoration are achieved.
Main functions / features

Upscaling
An upscaling function that converts the resolution of existing video data to a higher resolution.
With the addition of crisp and natural video detail, SD (720 x 405) videos can be upscaled to 4K (3840 x 2160) and even up to 8K (7680 x 4320) videos.
Denoising
A function that removes noise and particles and reproduces the realistic details of images.
Minimize flicker and other temporal artifacts caused by frame-by-frame denoising.
Deinterlacing
Ability to use deep learning to convert interlaced video to progressive while preserving the definition of the image.
Significantly reduces visual artifacts compared to traditional deinterlacing.
Restoration
Ability to restore old videos naturally without adding visual artifacts.
Restores realistic details and removes compression artifacts from old and degraded sources.
For other features and functions here Please see (manufacturer page)
Other software
We also handle "image" quality improvement software made by Topaz Labs, which also uses AI technology.
Gigapixel AI

Software that allows you to upscale your photos up to 600% while maintaining perfect image quality
DeNoise AI

Software that eliminates image noise and restores clear details with AI-based noise reduction tools
Sharpen AI

Image sharpening software that can create in-focus photos
* A great bundle pack that includes the above 3 products Image Quality Bundle There is also.