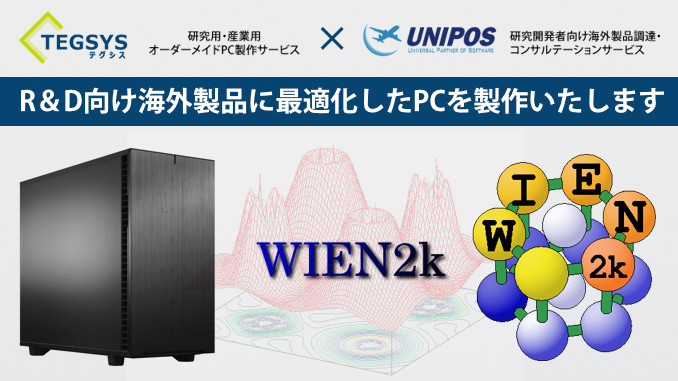 Procurement of overseas products for R & D and PC production service with optimal configuration for its use
Custom-made PC production service "Tegusis"Overseas product procurement and consulting service for R & D"UniposIt is possible only because Tegara provides two types of services, ""Purchasing overseas products for R & D and manufacturing custom PCs optimized for their useWe would like to introduce a one-stop service called ".
For example, a PC is required to run the software, and specialized software may have the necessary conditions (* memory capacity, installation of a high-end video card, etc.).One of Tegara's strengths is that we can provide a set of products procured from overseas and the most suitable PC for its operation, eliminating the need to search for a PC that meets such conditions.
This time, the solid electronic structure calculation program "Unipos" is handling.Wien2kWe will guide you to the best machine for that use.
About WIEN2k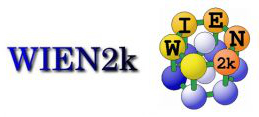 WIEN2k is a program for band structure calculation by the (L) APW + lo method developed by a professor at the Institute of Materials Science, Vienna University of Technology. It consists of a number of independent Fortran90 programs that are linked together via C-Shell scripts.
WIEN2k allows you to perform density functional theory (DFT) electronic structure calculations for solids.It is also an all-electronic scheme that includes relativistic effects and has many functions.
Features and calculated properties
LDA, GGA, meta-GGA (libxc interface), LDA + U and EECE, orbital polarization, Hybrid-DFT
centro- or non-centrosymmetric cells (mode), all 230 spacegroups built in
spin-polarization (ferro- or antiferromagnetic structures), spin-orbit coupling
sequential mode, k-parallel mode (without MPI, slow network with common NFS), massively parallel MPI mode (shared memory or Infiniband)
electron densities and spin densities, x-ray structure factors, potentials, STM and AFM simulations
Baders's "atoms-in-molecule" concept
total energy, forces, equilibrium geometries, structure optimization, elastic constants, molecular dynamics
electric field gradients, isomer shifts, hyperfine fields, NMR chemical shifts, NMR Knight shifts
x-ray emission and absorption spectra, electron energy loss spectra
optical properties
fermi surfaces
WIEN2k can be executed on a WEB browser using W2web, which is a unique GUI as shown below.You can also run it from the command line.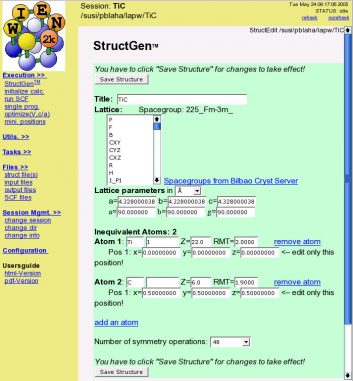 About License
The WIEN2k license is provided as a permanent license (purchased).The license includes source code and updates.
It also takes the form of a Groupe License.Limited to use by members within the same research group (*), There is no limit to the number of machines that can be used.
* Definition of members of the research group: Research leaders (professors), postdoctoral researchers who conduct research under them, and doctoral students
The license price varies depending on the type of organization you are using, so please let us know the affiliation of the end user when making inquiries.
Commercial Users – Corporate and commercial users
Governmental Labs – Governmental laboratories and institutions
Academic institutions – Educational institutions
Computing centers – Non-profit computing centers or commercial computing centers
PC with optimal configuration for WIEN2k
We examined the optimum PC configuration for comfortable calculation processing with WIEN2k.
The minimum specs that are not a problem to use WIEN25k with a budget of about 2 yenEntry compositionAlso, since parallel performance is important for WIEN2k, we prioritized the number of cores in order to secure a certain degree of parallel performance with a budget of about 50 yen.Standard configurationAnd, with a budget of about 100 million yen, 2 CPUs will be installed to further improve parallel performance. Recommended configurationWe have prepared three models, so we will introduce them below.
WIEN2k machine configuration example
Of course, in addition to this, we can also respond with specifications and configurations that meet the needs of our customers, so we would appreciate it if you could contact us when considering a PC for WIEN2k.