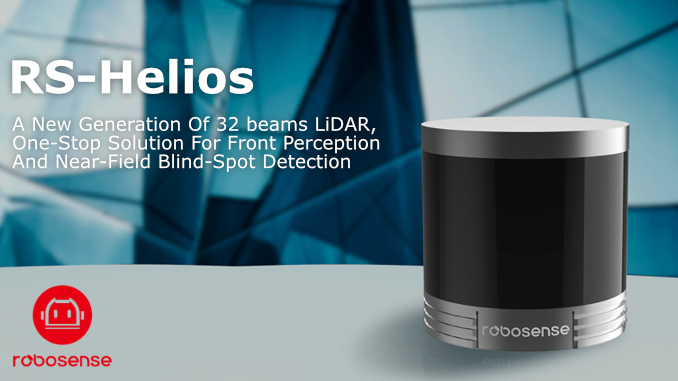 Compact 32-beam LiDAR for robots and autonomous vehicles on the Unipos website RoboSense RS-Helios Page has been added.
RS-Helios is a 2 laser beam LiDAR developed for robots, autonomous vehicles, vehicle communication systems V32X (Vehicle to everything), and mapping applications.
RS-Helios series
The RS-Helios series can detect the blind spot with long-distance perception.RS-Helios-5515And convenient for creating highly accurate mapsRS-Helios-1615There are two lineups.Although each body size is compact with a diameter of 2 cm and a height of 10 cm, it has the performance of 10 degrees in the horizontal direction, measurement distance of 360 m, and dustproof and waterproof (IP150).
RS-Helios-5515
The high density in the center of the field of view and the lasers sparsely arranged toward the edges enable high-precision 150D point cloud data up to 3 meters away.In addition, it is a LiDAR that can significantly reduce the blind spot in the near field by matching it with the field of view tilted 55 ° downward from the horizon.
RS-Helios-1615

LiDAR is convenient for high-precision map creation with 31 laser beams evenly distributed with a vertical field of view of 32 °.You can acquire 150D point cloud data up to 3 meters away.
Major features

Customizable viewing angle (FoV)
Blind spot detection area is 10 cm or less
Equipped with noise information (rain, fog, snow, dust) removal function as standard equipment
Shielding technology against radar interference
Main Specifications
Laser Beams: 32
Laser Wavelength: 905nm
Laser safety: Class1
Accuracy: Up to ± 3cm
Range: 150m (90m on 10% US NIST standard)
Horizontal FOV: H360 °
Vertical FOV: [5515] V70 ° (-55 to + 15 °) / [1615] V31 ° (-16 to + 15 °)■
Vertical Resolution: [5515] Up to 1.33 ° / [1615] 1 ° *
UDP Packet include: Spatial Coordinates, Intensity, Timestamp, etc.
Protection Level: IP67
Operating temperature: -30 ° C to + 60 ° C
Storage Temperature: -40 ° C to + 85 ° C
Dimension: φ100 mm x H100 mm
Weight: ~ 1.0 kg (W / O cabling)
* The only difference between RS-Helios-5515 and RS-Helios-1615 is the vertical field of view and resolution.
* Specifications are subject to change without notice.
Example of utilization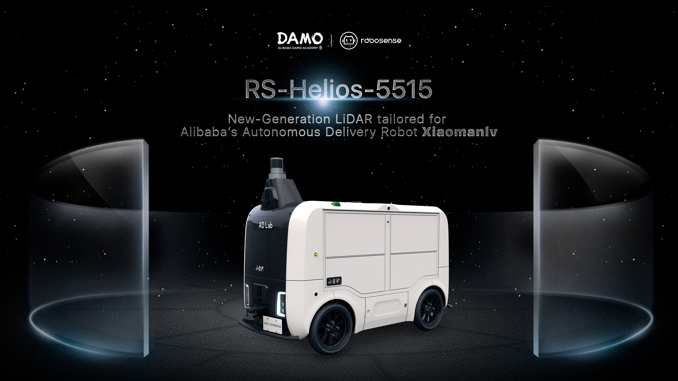 RoboSense's RS-Helios-5515 is used in Alibaba's autonomous robot, Xiaomanlv.
The RS-Helios-5515 tuned for Xiaomanlv has already been deployed in more than 300 vehicles and is being tested for adaptability in all-weather and full conditions in actual use.
The integration of LiDAR, such as RS-Helios-5515, into more robots and autonomous vehicles could raise the bar for autonomous driving.
See RoboSense launched new-gen bespoke LiDAR during Apsara Conference
https://www.robosense.ai/en/news-show-1561
* For other RoboSense products, please let us know the product model number and URL.
(RS-Ruby, RS-Ruby Lite, RS-LiDAR-16, RS-LiDAR-32, RS-B Pearl, etc.).