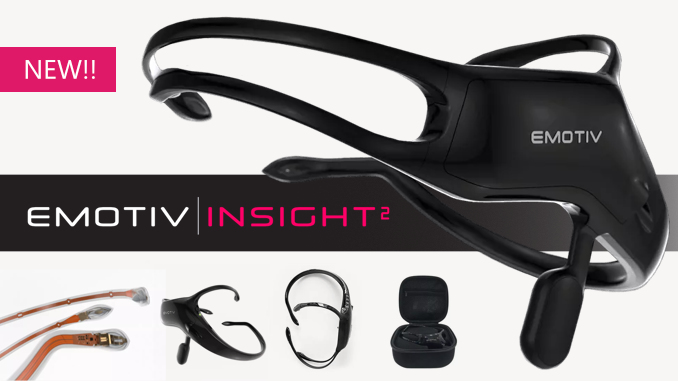 Emotiv Systems EEG Analysis Wireless Headset Emotiv Insight New model "EMOTIV Insight 2.0Has been released (March 2022).
This update (new function)
Improved communication connectivity and Bluetooth 5.0 support (*)
Battery life: up to 20 hours
Includes protective carrying case
* Bluetooth connection only
What is Emotiv Insight 2.0?
Emotiv Insight is a streamlined design 5-channel wireless headset for Brain Computer Interface (BCI).
It uses a semi-dry polymer type sensor that can be worn as it is without a conductive gel or saline solution, so it is possible to record brain waves comfortably in daily life and command the read brain waves. (Ex. You can perform simple operations such as moving or floating a radio controller just by imagining it in your head).
Key features of Insight 2.0


EEG sensing headset (5 channels)
Setup is possible in a short time (about 1 to 2 minutes)
Semi-dry polymer sensor that is easy to use and clean
Bluetooth compatible
9-axis motion sensor that detects head movement
For advanced developers: Emotiv allows for proprietary development (SDK / Cortex)
Key specifications of Insight 2.0
EEG sensors:
5 channels: AF3, AF4, T7, T8, Pz
2 references: CMS / DRL references on left mastoid process
Three prong gummy sensor: for better hair penetration on Pz
Sensor material: Hydrophilic semi-dry polymer
Connectivity:
Wireless: Bluetooth Low Energy
Improved radio connectivity, updated antenna with Bluetooth 5 support.
Supported platforms: Supported platforms:
Windows: 10 (64-bit) v1607 +
MAC OSX: 10.13 and higher
iOS: 12 or above (Beta release)
Android: 7.0 Nougat (API level 24) or above (Beta release)