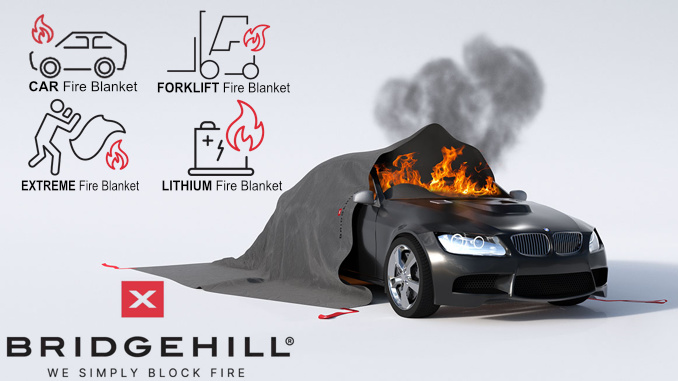 Fire extinguishing blanket on the Unipos website Car Fire Blanket Page has been added.
BridgeHill (BridgeTech) Car Fire Blanket Is an effective fire extinguishing blanket for extinguishing battery fires.
Electric car and battery fire
Lithium-ion battery fires have become a challenge in the development and operation of hybrid and electric vehicles.When a lithium-ion battery ignites due to an accident, it burns violently at a high temperature and generates a large amount of smoke containing harmful substances.Even if the flame goes out, the battery will ignite repeatedly due to thermal runaway, and in order to completely extinguish the fire, it is necessary to use a special fire extinguishing agent or continue to sprinkle a large amount of water.There is also a risk of electric shock with large capacity batteries.
reference:Activities of fire departments in next-generation car accidents, etc. (Fire and Disaster Management Agency Reiwa 2nd year study meeting materials)
What is Car Fire Blanket?
A fire extinguishing blanket that shuts off the source of the fire from the outside air.Can be stored compactly by folding it and putting it in a case.Compared to extinguishing fires with water or chemicals, it can also reduce the scattering of harmful substances and pollution of water and soil.Since fire extinguishing activities can be performed quickly even in places where it is difficult for fire fighting vehicles to enter, it is effective for fires on highways, tunnels, transport ships, and parking lots where cars are crowded, which tend to run out of water.
Main Specifications
Dimensions / weight
Size: ± 6 x 8 m (size that can cover passenger cars including small SUVs)
Weight: ±26kg
Types
Standard: Single-use
PRO X : Washable and reusable (withstands specifications of about 30 times)
【重要】
Fire BlanketIt is not a fire extinguisher or fire extinguisher specified in the Fire Service Act and the Fire Service Act Enforcement Ordinance..It cannot be used as firefighting equipment, so please install firefighting equipment separately and use it as an aid to firefighting activities.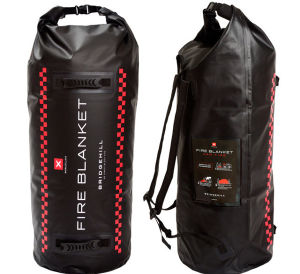 How to use
All you have to do is unfold the Car Fire Blanket out of the case, wrap it around the ignited car body, and wait about 20 minutes.Although it weighs about 26 kg, it has a band-shaped handle for ease of holding.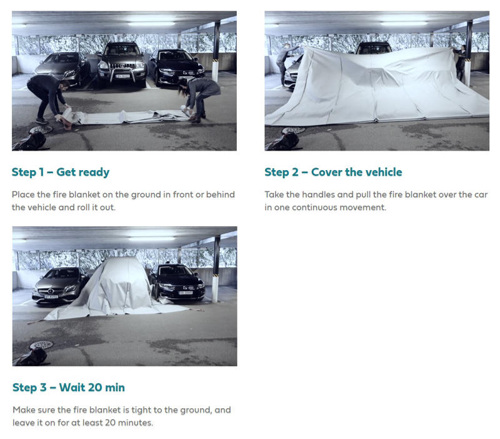 【please note】
Car Fire Blanket stops combustion by cutting off the oxygen supply to the fire source.A hot battery will reignite when exposed to oxygen, so keep the Car Fire Blanket on until the temperature drops completely after the flame is extinguished.
About the Fire Blanket series
We also have a lineup that supports fire sources other than passenger cars.Please let us know your desired product name when making inquiries.
Forklift Fire Blanket
Products for small vehicles such as forklifts and machines.Suitable for use in factories and warehouses.
Extreme Fire Blanket
Products for home and commercial facilities.It is suitable for fire prevention of electric scooters and small mobility, and for extinguishing kitchen fires.
Lithium Fire Blanket
A product for electronic devices equipped with a lithium-ion battery.Suitable for extinguishing fire when a mobile battery or portable power supply ignites.
Product development that takes advantage of the voices of fire scenes
BridgeHill develops products by incorporating the opinions of firefighters who are actually active in the fire scene into the latest material development technology.By testing the product in various situations, we have achieved both high safety and ease of use.