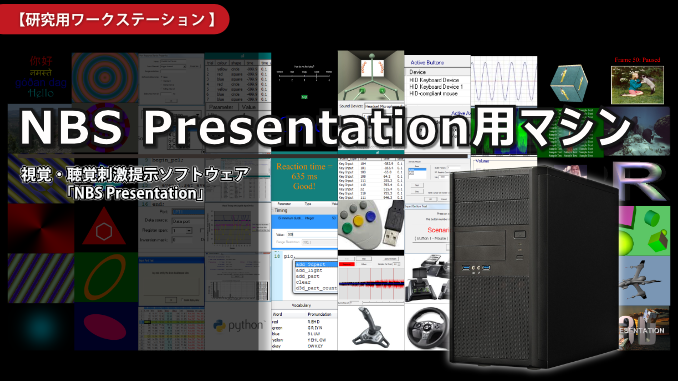 This is a configuration example of a machine for stimulus presentation software "NBS Presentation".
The operating requirements for NBS Presentation are described on the official website, but since the information has not been updated much and the hardware information is old, the selection is based on the assumption that it will have such specifications at present.
The configuration of PC-5912, which is an example of the same application, was examined based on the customer's request, but it is not necessary to have the same content when using only NBS Presentation, so the whole is based on the old case. It is the content arranged in.
Graphics cards are now considered to work well with onboard graphics.Therefore, the video card is not installed, and there is room for adding a sound card and parallel port.
(Compatible with expansion cards) The need for a sound card and parallel port may depend on how you use it, so it is not included in the standard.Please feel free to contact us if you would like an additional configuration.
In addition, we can respond to changes in the housing, so we will consider the configuration according to your wishes.
【Main Specifications】
| | |
| --- | --- |
| CPU | Core i7 12700 (2.10GHz 8 cores + 1.6GHz 4 cores) |
| memory | 16GB |
| storage | 1TB SSD S-ATA |
| video | on board (DPx1 HDMIx1) |
| network | on board (10/100 / 1000Base-T x1) |
| Housing + power supply | Mini tower housing + 550W |
| OS | Microsoft Windows 10 Professional 64bit |
■ Click here for details and inquiries about this PC case
Machine for NBS Presentation

* Please enter the name of the case or your desired conditions.