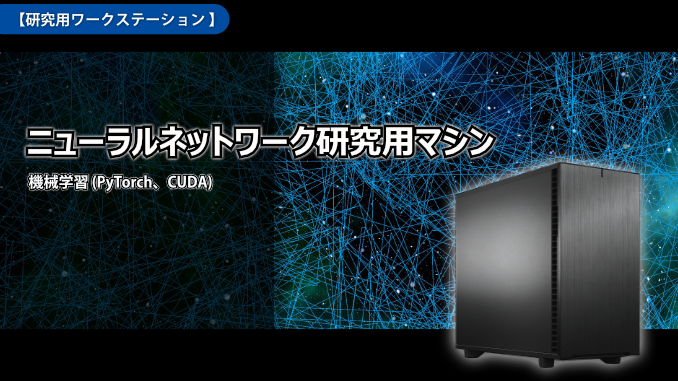 We received a consultation from a customer about a machine for machine learning (neural network).
It is assumed that the two GPUs will be used for separate learning, and the following specifications are assumed.
CPU: Either Intel or AMD
Motherboard: One that can insert two GPUs at a transfer speed equivalent to PCI-Express 4.0 x16 (PCI-Express 5.0 x8)
Memory: DDR4-3200 or DDR5, considering either 32GB or 64GB
SSD: NVMe type 500GB
HDD: S-ATA 8TB
Power supply: 1600W
GPU: NVIDIA Geforce RTX3090 x 2
OS: CentOS 7
We have proposed a machine with 3 CPU specification using the 1rd generation Xeon scalable.
The main reason for adopting this configuration is support for PCI Express 4.0. The two graphics cards are connected with PCI-Express 2 x4.0 bandwidth.
Also, considering the usage, it is desirable to secure more than the total capacity of the video memory for the main memory, so 3090GB is used, which is 24GB or more for the RTX2 video memory 48GB x 64.
Other configurations are also tailored to the customer's request as much as possible.
【Main Specifications】
CPU
Xeon Gold 6326 (2.90GHz 16 cores)
memory
DDR4-3200 64GB
Storage 1
500GB SSD M.2
Storage 2
8TB HDD S-ATA
video
NVIDIA Geforce RTX3090 x2
network
on board (10GBase-T x2)
Housing + power supply
Middle tower case + 1600W
OS
7 CentOS
Other
CUDA Toolkit 11
Replacement internal fan 12cm x 3