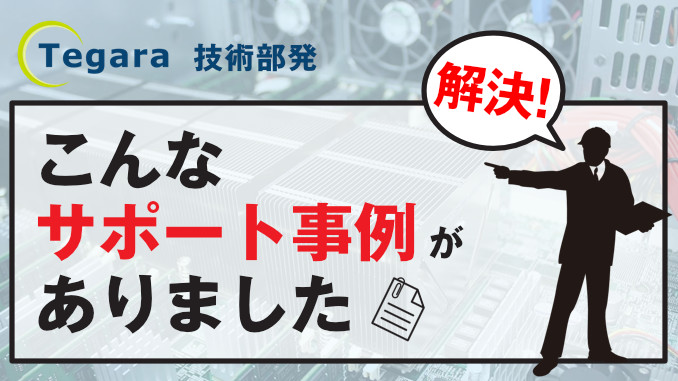 At TANKEN SEAL SEIKO,Overseas Product Procurement / Consulting Service UniposWe have prepared a support pack "Anshin +" for software and hardware purchased at.If you are worried about introducing overseas products, please consider it.
Hurdle after introducing overseas products
Unipos is a service that procures the latest products from all over the world on behalf of customers involved in research and development.
For products ordered on behalf of the customer, problems that occur after the initial failure period ends are basically handled by the customer himself / herself.
Software / Hardware Normal Support Flowchart
* Click to enlarge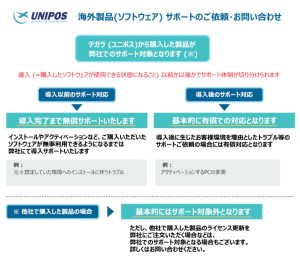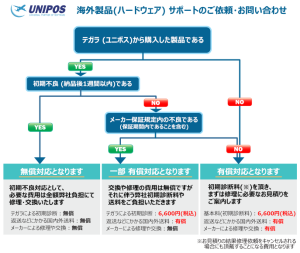 However, it is difficult to proceed with overseas exchanges and return procedures in parallel with normal work.
As a solution to such problems, we3 types of support packsIs available.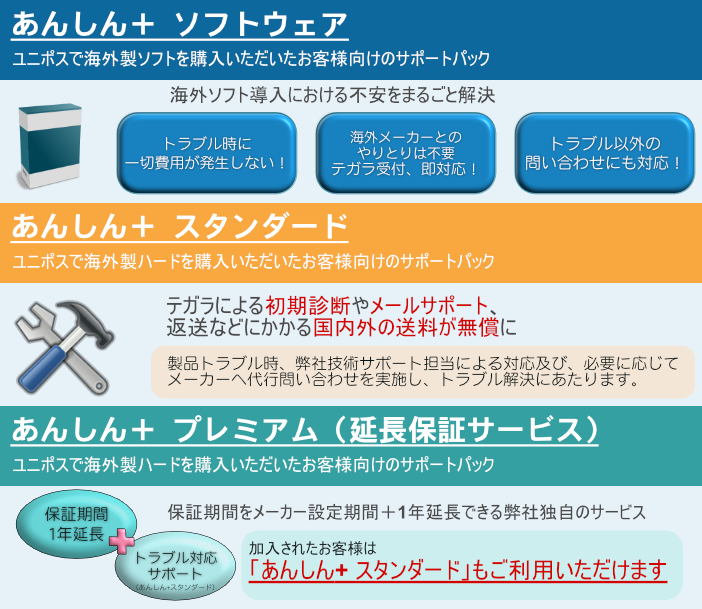 Related Links
When should I join?
Most of the customers who use the support pack "Anshin +"
I'm worried about the introduction of overseas products for the first time
I do not know what to do because I will introduce a type of product that I have not used much
Smooth support is needed to speed up the progress of the project
For some reason, we are considering joining.
One of the major merits of subscribing to "Anshin +" is that Tegara will make inquiries to the manufacturer on behalf of the customer in the event of a problem.This frees you from the hassle of communicating in English and checking the operation while interacting with the manufacturer support staff.
Below is a list of the products that are most often subscribed to.
Use Case
Introducing examples of customers who have subscribed to the support pack and who are considering joining.
What kind of problems can occur when introducing overseas products?Please see it as reference information such as what kind of service you can receive.
Summary
We recommend that you subscribe to the support pack "Anshin +" for customers who want smooth operation after introducing overseas products and want support with Japanese quality.
When considering the introduction of overseas products, please feel free to contact us regarding support after the introduction.
■ Click here for details and inquiries regarding this support case