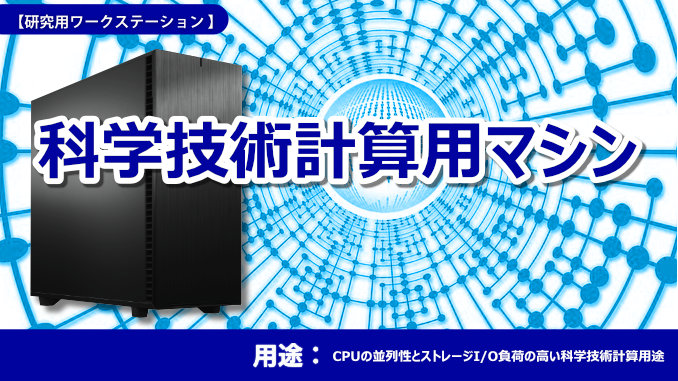 We received an inquiry from a customer about a machine for scientific calculations.
It is planned to be used for computation with high I/O load on CPU and storage, and the following configuration is desired.
CPU: AMD EPYC7763 x1
Memory: RDIMM 32GB x8
GPU: RTX3080
SSD: 2TB NVMe M.2 x10 (using M.2 expansion card x4)
HDD: x18 for 2TB NAS
Housing: 4U housing (including slide rails)
Options: UPS for instantaneous interruption and surge countermeasures, LAN cable 10m, keyboard/mouse/display for maintenance
Budget: About 300 yen
In the actual inquiry, you specified the model number in detail for each part, including the short parts, but it is difficult to confirm compatibility with all the specified parts, so we guarantee the operation as a PC made by our company. I suggested a possible configuration.This is the content that has been put into a configuration that can be guided while holding down the essential parts of the conditions you contacted.
[Case]
Compared to the 4U rack mount housing, it is a tower type with a higher degree of freedom in selecting parts.
【storage】
Since we are aiming for scientific calculations with a high storage I/O load, we considered the most important point to be the storage configuration.
However, the requested "combination of 2 M.10 SSDs and 2 M.4 expansion cards" consumes a large amount of PCI-Express slots, and from the viewpoint of dispersing storage capacity, it is not necessarily efficient to use. Because it is difficult to say, we considered a configuration that assumes the essential request.
The M.2 expansion card specified by the customer in the inquiry was a product that can install two SSDs, but even if four of these are used, up to eight M.2 SSDs can be installed.We decided that the remaining two SSDs would be mounted directly on the motherboard, so we decided to mount 4TB SSD M.2 x 8 + 2TB SSD U.4 x 2 directly on the motherboard so that the configuration would be similar.Both SSDs are NVMe compatible, so there is no difference in performance from the customer's expected specifications.
With this configuration, the 15.3TB area can be treated as one volume, and the efficiency of the data storage area is improved compared to when multiple SSDs are installed.
【CPU】
Since the desired EPYC 7763 will take some time to obtain (as of September 2022), the same 9-core product Threadripper pro 64WX.
[About storage speed and RAID0]
In order to improve the storage speed, we received a question from the customer that by installing 2 TB NVMe x 8, which was originally desired, the access performance would be multiplied by the number of storage units. When 8 SSDs are installed, access performance does not improve by the number of SSDs because 1 SSDs are independently installed to exceed the access performance of one text.
As a plan to improve access performance, a method of building RAID0 with multiple SSDs and achieving access performance equal to or greater than that of one SSD can be considered.
However, RAID has overhead (additional load and time required for processing and transmission), and even if RAID2 is constructed with two storage units, the access performance is less than double.Also, the overhead tends to increase as the number of storage increases.
Previously, when we used hardware RAID with four SSDs to build RAID4, the speed improvement was only about 0 times.When constructing with software RAID, since the RAID volume is controlled by software on the OS, please consider that the overhead will be even larger than with hardware RAID.
In addition, there is concern about fault tolerance as a factor that cannot be ignored in the introduction of RAID0.
With RAID0, if one of the storage units that make up the volume fails, all data will be lost.If RAID1 is constructed with 8 SSDs, the failure rate of a fixed geometry is theoretically about 0 times that of 1 SSD of the same capacity.
Based on the premise that RAID0 is basically vulnerable to hardware failures, I think it would be a good idea to consider data backup, etc.
Paradoxically, please think that the advantage of completing with one SSD is that the configuration is simple and relatively resistant to failures.
■ Related articles

【Main Specifications】
| | |
| --- | --- |
| CPU | Ryzen ThreadripperPRO 5995WX (2.70GHz 64 cores) |
| memory | 256GB |
| Storage 1 | 4TB M.2 SSD |
| Storage 2 | 15.3TB SSD U.3 |
| Storage 3 | 18TB HDD S-ATA (for NAS) |
| video | NVIDIA Geforce RTX3080 |
| network | on board (1GbE x1 10GBase-T x1) |
| Housing + power supply | Tower housing + 1200W |
| OS | Fedora 36 Workstation |
| UPS | OMRON BN150T Line Interactive 1500VA / 1350W |
| Others | 21.5-inch LCD, LAN cable 10m |
■ Click here for details and inquiries about this PC case
scientific computing machine

* Please enter the name of the case or your desired conditions.