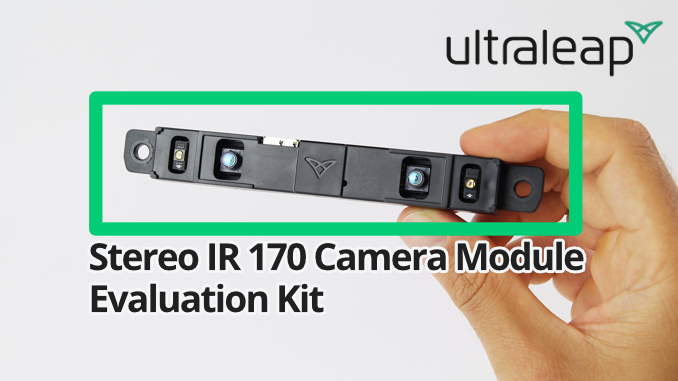 Added to the Unipos website this time "Ultraleap Stereo IR 170 Evaluation Kitis a stereo IR camera evaluation kit based on a high performance hand tracking module with a 170 degree viewing angle.
In the new normal with corona era, as lifestyles and corporate activities are changing rapidly, touchless or non-contact operation of touch panels used by an unspecified number of people in public and other places is attracting attention as one of the infection countermeasures.This evaluation kit can also be used as a kiosk, DOOH (digital out of home), elevator touchless interface evaluation and prototype.
What is the Ultraleap Stereo IR 170 Evaluation Kit?

A hand tracking module that captures the user's hand and finger movements in a 170D interactive zone with a standard viewing angle of 10° and a depth of 75cm to 1cm (maximum 3m), enabling natural interaction with digital content.
Housed in a plastic housing with a USB header, the evaluation kit is easy to plug and play and operate.
It is suitable for prototyping and research and development of XR (cross reality), VR (virtual reality) and AR (augmented reality), and can be incorporated into enterprise-grade hardware solutions, displays, installations, AR/VR headsets, etc. It's designed to.

Package contents
Stereo IR 170 Evaluation Kit (plastic housing with USB header)
Protective lens caps
Micro USB Type-B cable
Main Specifications
Operating wavelength: 850nm
Tracking range: 10cm – 75cm, up to 1m maximum
Field of view: 170°
Dimensions: L145mm x W18.6mm x H11.1mm
Weight: about 22g
Stereo IR 170 Evaluation KiApplication of t
The Ultraleap Stereo IR 170 Evaluation Kit is expected to be used in a wide range of fields such as entertainment, healthcare, and education, in addition to the touchless interface mentioned at the beginning.
Application examples are as follows.
entertainment:
Location-based VR/AR experiences, arcades, amusement parks
health care:
Stroke rehabilitation, training, mirrors, medical imaging, strabismus treatment
Therapy and Education:
Anatomical visualization, experiential learning
Human resource development:
flight simulator, complex computer system
Industrial design and engineering:
Automobiles, assembly lines, facility management
Robotics:
Telepresence, robot control, AI assisted education
Remote collaboration
For details, please refer to the solution on the manufacturer's site.