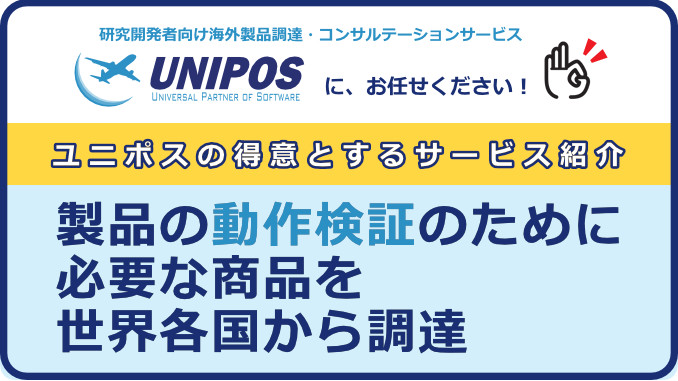 Overseas product procurement service At Unipos, we procure and provide specialized products from all over the world according to the special needs of each customer.
Among the various inquiries we receive on a daily basis, as an introduction to the services that Unipos specializes in, customers who need major devices distributed around the world to verify the operation of their new and developed products. We would like to introduce an example of responding to a request from a customer, such as "I want to obtain multiple types of devices for each manufacturer, one by one."
Point: What Unipos can do
At the site of product development, there are situations where it is necessary to verify in advance the compatibility with other manufacturers' products that will be used with our own products. For products such as USB memory sticks and wireless LAN routers, which are sold by many manufacturers and many model numbers all over the world, it is sometimes necessary to have many items to be verified, and dozens of items are required one by one. need arises.
Unipos responds to such customer requests with high-level research and procurement capabilities.

For example, request ① : USB memory
We are developing a new product.In order to prevent compatibility issues with any USB memory used by the user, we would like to verify the operation with major USB memory from around the world in advance. We would like to obtain the corresponding product at the model number specified level, such as the USB standard (transfer speed) and capacity.
For example, request XNUMX: Wireless LAN router
We are developing a new product.Although it is a product that requires connection to a network, we expect it to be sold all over the world, so we would like to obtain a lot of wireless LAN routers sold around the world and verify their operation.
For example, request ③ : Keyboard
In software development, we conduct operation tests of localized versions in each country's language.I want to obtain keyboards in various languages ​​as an input device for verification (*Move to the purchase link at the bottom of the page).

We will procure the product of your desired model number from all over the world.
We will investigate not only manufacturer inventory but also retail stores (EC shops) in each country, so it is possible to obtain some items that have been released in the past.
We also provide a consulting service to select and procure the most promising products without specifying the model number (please contact us for details).
Correspondence example
Procurement of USB memory
4 each of 10 types of USB memory from 3 manufacturers with specified model numbers.Sources are USA, UK, Germany, etc.

* The photo is an example of the correspondence results.
Procurement of wireless LAN router
4 each of 17 types of European wireless LAN routers from 1 manufacturers
3 each of 15 types of Chinese wireless LAN routers from 1 manufacturers
Even for routers from the same manufacturer, we can provide regional models such as "North American version", "European version", and "Chinese version".Especially for routers made in China, we will obtain and provide products by making full use of a wide range of procurement routes in cooperation with local agents.
Procurement of foreign language keyboards
We have a track record of handling foreign language keyboards such as the following.
| | |
| --- | --- |
| English (English) – UK Layout / US Layout | Chinese – Traditional / Simplified |
| French (French) – AZERTY layout / QWERTY layout | German – QWERTZ layout |
| Russian (Russian) – JCUKEN arrangement | Italian |
| Korean | Arabic |
| Thai | Burmese / Myanmar (Burmese) |
| Portuguese – Portuguese layout / Brazilian layout | Spanish – Spanish Layout/Latin American Layout |
In addition to languages, we also support requests by specifying arrays.
In addition, we have stocks of some frequently asked languages ​​(immediate delivery is possible).

※ Photo : Thai keyboard
Please check the following page for details on the handling keyboard and stock status (move to Unipos website)
Please feel free to contact Unipos!
If the research and development personnel themselves arrange products from various sources around the world, the more products they want to obtain, the greater the burden, such as research on sources, communication of purchases, payment procedures, etc. It will end up.If you ask Unipos, we will provide you with everything you need in one stop!
The USB memory, wireless LAN router, and keyboard introduced this time are examples of our achievements, so if you have any other devices or overseas products that you need to verify the operation of your own products, please feel free to contact us.