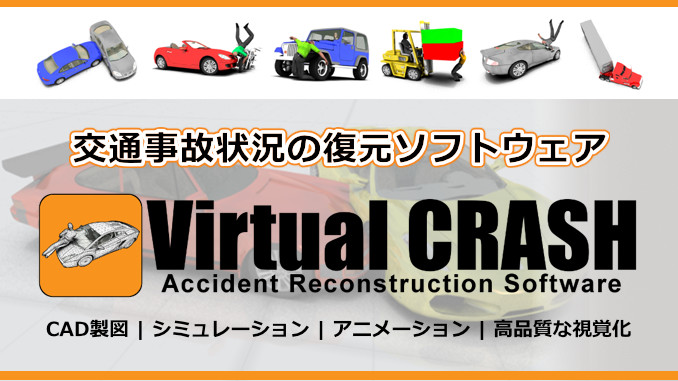 On the Unipos website, environment construction software for traffic accident situations "Virtual CRASHpage has been added.

Virtual CRASH is software for reconstructing accident situations on a computer, targeting various accidents such as vehicle collisions, pedestrian accidents, bicycle accidents, and motorcycle accidents.
This single software can be used to create an accident scene environment in CG, simulate vehicle dynamics and collisions, and output visual materials in still images and animations.
In addition to importing total station and RTK GPS positioning data, aerial photographs and point cloud data, it is also possible to integrate map data from Google Earth, which can be used to create realistic 3D environments.In addition, it is possible to control the movement of the vehicle with a unique path animation tool, and reproduce the accident situation by simulation with a physics engine and rigid body dynamics-based collision model.
Virtual CRASH | Accident Reconstruction Software | Demo Reel | www.vcrashusa.com
Examples of using Virtual CRASH
Virtual CRASH is software that can be used in various fields such as forensics, insurance, flight safety management, law, research and development, medical research, education, CG art and animation.
Forensics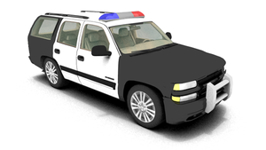 Virtual CRASH has all the features you need to perform accident reconstruction analysis in a short amount of time.Forensic evidence can be easily incorporated into a simulated environment to help produce high-quality materials for arbitration and litigation.
Used by the California Highway Patrol to keep highways safe, and by the Harris County Sheriff's Department in Texas, the sixth largest sheriff's office in the nation. There is a track record.
Simulation, Animation, and Momentum Analysis Solutions for Forensics
https://www.vcrashusa.com/forensics
Insurance/Law

Virtual CRASH is also an ideal tool for insurance and legal professionals who need to assess accident liability and severity.Simulations can be performed without the need for specialized knowledge as an engineer or researcher.
It is also used by Samsung Fire & Marine Insurance Co, Ltd, a major South Korean insurance company.
The Ideal Tool for Insurance Professionals
https://www.vcrashusa.com/insurance
Research and Development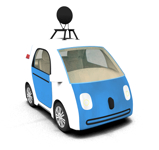 Virtual CRASH is also used in research on self-driving cars.You can use it as a camera emulator tool or easily generate videos simulating any traffic situation.
Virtual CRASH is also used by Motional, a US company that develops autonomous driving technology, and Mobileye, an autonomous driving division of Intel.
Use the Virtual CRASH platform for your R&D
https://www.vcrashusa.com/research
Education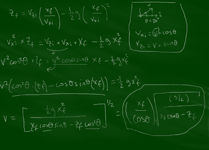 As a tool for learning physics, you can use the features of Virtual CRASH.
For example, it can be used as a 3D physics simulator to reproduce oblique projection in real time, or to simulate problems related to kinematics and collision physics.
Bring Virtual CRASH into the Classroom
https://www.vcrashusa.com/education
Virtual CRASH Usage – Work Steps
* This introduction is based on the latest version of Virtual CRASH 5.Please note that some features are not available in 3, 4 and Public Safety
■ Step 1: Create the environment
Build surfaces from point clouds, total station measurements, or using your own 3D modeling tools.We also use CAD tools to build the environment of the accident scene, including adding important details.
■ Step 2 : Drop in objects
Drag and drop vehicles, pedestrians and other objects into the environment.You can enter simulation parameters and path animation data intuitively, or use the Momentum Solver feature to facilitate simulation.
■ Step 3 : Execute and analyze
Run a simulation or use the path animation tool to see Virtual CRASH run through your scenario.Easily adjust your creations with real-time feedback from a super-fast physics engine.Graphing tools and data reports are also provided to aid in analysis.
■ Step 4 : Render
Once a simulation or animated scenario is complete, you can export still images or render animations with realistic detail.
About License
The latest version is Virtual CRASH 5 (released in September 2020).
Virtual CRASH 64, a 5-bit application, has relaxed memory restrictions and can handle large point cloud data, aerial photographs, 3D models, etc.
In addition, based on Virtual CRASH 5, we have narrowed down the functions for creating scaled images and animations that reproduce the accident scene from among many functions. Virtual CRASH Public Safety (released in October 2022) is also available.
If the main purpose is to create materials to be used for reports and presentations, selecting Public Safety can reduce costs and introduce it.
See the table below for a comparison of key features for each license.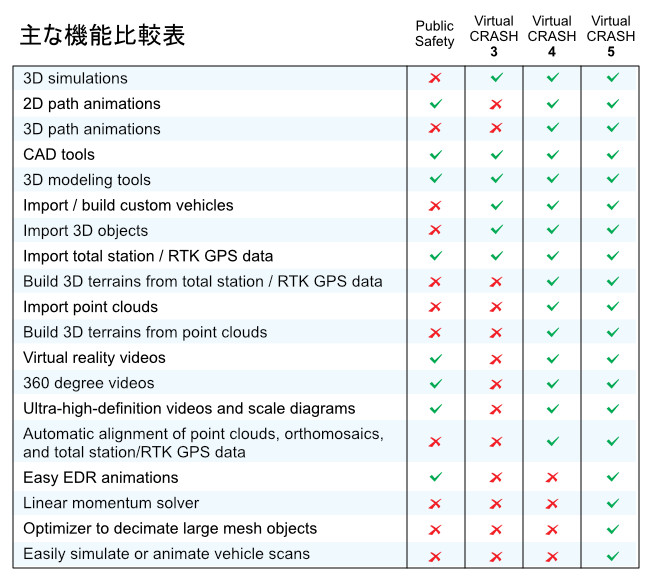 * Virtual CRASH 3 / 4 is an older version, but you can still purchase it.
Learn about Virtual CRASH
In addition to publishing many videos on the official YouTube channel, the manufacturer also has a content that summarizes documentation and tutorials "Virtual CRASH Academy (vCRASH Academy)" is available.
Please take a look and feel the charm of Virtual CRASH!
Manufacturer YouTube channel
vCRASH Academy