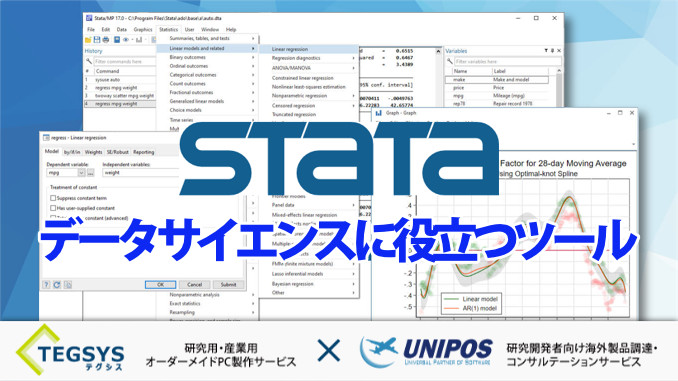 .We are surrounded by all sorts of data.With the development and spread of computers and the Internet, things and things that are invisible or difficult to see have become visible and collected as useful information.And in order to find useful information from this information, data science is indispensable.
Data science is an approach to discovering latent knowledge and value from vast amounts of data and using it to solve problems and make decisions.Collecting, analyzing, and visualizing the necessary data from a large amount of data enables quick decision-making, so it is attracting attention not only in business, but also in research and development in medicine and education.
This time, from among the statistical tools useful for data science, Unipos has also handled statistical analysis software "BeenI will introduce.
This article is based on the following information

The Best 5 Statistical Software Tools (SelectHub)
https://www.selecthub.com/business-intelligence/statistical-software/

What's the Best Statistical Software? A Comparison of R, Python, SAS, SPSS and STATA
https://www.inwt-statistics.com/read-blog/comparison-of-r-python-sas-spss-and-stata.html
About Stata

A statistical solution designed for data scientists.Data analysis, data management, modeling, charting, and almost all the statistical methods you need for inference are available in Stata.Superior data management capabilities enable researchers and business professionals to efficiently analyze data and gain meaningful and powerful observations and insights.
Graphs and other visualizations are easy to create and useful for printing, publishing, and reproducing.In addition, it has a good reputation for the support system by the Stata community and the use of abundant literature.
Main features/overview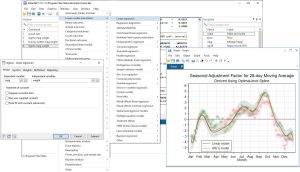 Feature rich – Almost all popular statistical methods are available in Stata
Point-and-click GUI – easily accessible
Fast, Accurate, and Easy to Use
online help system
Broad suite of statistical functions
Compatibility with older versions
Cross-platform support (Windows, MacOS, Linux)
Publication-quality graphics
Supports multiple languages ​​including Japanese
Inexpensive compared to competitive products on the market
3 year release cycle
* Stata has a long release cycle of 3 years, so it is a little slow to incorporate new methods compared to other tools.
Main statistical functions
Stata offers hundreds of statistical tools across a wide range of disciplines, including behavioral sciences, epidemiology and biostatistics, economics, econometrics, education, political science, public health, public policy, and sociology. Statistical analysis is possible in all fields such as science, finance, business, and marketing.
Main statistical functions
Linear model, panel data / longitudinal data, multi-level mixed effect model, selection model, ERM (extended regression model), GLM (generalized linear model), FMM (finite mixed model), spatial autoregressive model, ANOVA (analysis of variance) / MANOVA (Multivariate Analysis of Variance), Epidemiology, DSGE Model (Dynamic stochastic general equilibrium model), Test / Prediction / Effect, Contrast / Pairwise Comparison / Margin, Resampling and Simulation Method, Multivariate Method, Time Series, Survival Analysis, Bayesian Analysis, Metaanalysis, Detectability / Accuracy / Sample Size, Treatment Effect / Causal Inference, Lasso (Nagenawa), SEM (Structural Equation Modeling), Latent Class Analysis, Multiple Substitution, Investigation Method, Cluster Analysis, IRT (Item Reaction Theory), Network Analysis, etc.
About buying Stata
Overseas product procurement service UniposBeenWe are dealing with.
Compatible with multi-core and multi-processorStata / MP, Standard Edition Stata / SE, Basic EditionStata / BEas well as editions for embedded and web applicationsNumerics by Stata.
When inquiring about purchasing, please confirm the size and number of data to be processed, and let us know which edition you want.
Editions of Stata
You can choose from three editions (packages) of Stata / MP, Stata / SE, and Stata / BE according to the scale of data and the number of processes.
Stata / MP: For large data sets and when parallel processing requires high-speed analysis
Stata / SE: For large datasets
Stata / BE: For medium-sized datasets
Numerics by Stata: for embedded and web applications

Stata/MP can parse more data than any other edition.Also, Stata/SE and Stata/BE differ only in the size of the dataset that can be analyzed.
Note that all editions have the same functionality and supported commands.
*For details on each edition, Here (comparison table)
Try Stata: Evaluation License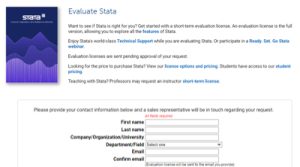 By applying from the inquiry form on the manufacturer site below,A short-term evaluation license is available.
The evaluation version is available on Stata/SE and lasts for 7 days.
In addition, Stata's full technical support is available during the evaluation period.

Evaluate Stata(Inquiry form on the manufacturer's site)
https://www.stata.com/customer-service/evaluate-stata/
If you have any questions, please feel free to contact us.
news
Next time, we plan to publish How to choose a PC for data science [Stata edition].
* How to choose a PC for data science [Stata edition] has been released