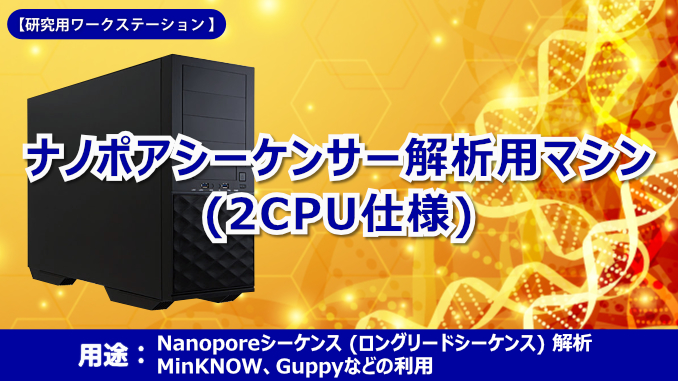 A customer inquired about a machine for long-chain DNA analysis using a nanopore sequencer.
The assumed conditions are as follows.
・CPU: 2 CPU configuration is desirable
・Memory: About 64GB
・Storage: Use NAS for SSD data storage area of ​​2TB or more
・GPU: NVIDIA RTX2060 or higher I want the GPU with the highest performance within the budget
・OS: Ubuntu will be installed (hoping to ship without OS)
・Budget: About 90 million yen
Based on the information you provided, we proposed the following configuration.
【Main Specifications】
| | |
| --- | --- |
| CPU | Xeon Silver 4310 (2.10GHz 12 cores) x2 |
| memory | 64GB REG ECC |
| storage | 2TB M.2 SSD |
| video | Nvidia RTX A4000 |
| network | On Board (1000Base-T X2) |
| Housing + power supply | Tower type housing + 1200W |
| OS | None |
When considering the configuration, the key point is the conditions related to the CPU and GPU.
Considering the budget, it is difficult to satisfy both conditions at the same time.
The configuration that emphasizes the performance of the GPU,Case No.PC-10347B.
The advantage of the 2-CPU configuration is that it has more cores than the 1-CPU configuration, high parallel processing performance, and a maximum of 2 TB of memory can be installed.
The RTX A4000 GPU is in the same class as the RTX2060, but it is a product with overall superiority in terms of video memory capacity and number of CUDA cores.
The configuration of this case study is based on the conditions given by the customer.
Please feel free to contact us even if you are considering different conditions from what is posted.
■FAQ
・What is Nanopore?
A nanopore is a nanometer (nm) sized pore.The nanopore sequencer uses an artificial membrane protein with nanopores and determines the base sequence from changes in the electric current when DNA passes through the nanopores.Nanopore sequencers are characterized by the ability to analyze longer-read DNA than conventional next-generation sequencers.
・What is MinKNOW?
Dedicated software for sequencing with the nanopore sequencer "MinION".
The MinION itself is a sequencer that connects directly to a PC via USB, and requires a certain level of machine specs.
reference:Laboratory and IT Requirements (Oxford Nanopore Technologies) *Jumps to an external site
・What is Guppy?
Guppy is a genetic information display program that graphically displays gene sequence data.Regions in the sequence that are translated into proteins and annotations for sites known as markers can be displayed or edited in an easy-to-understand manner.
reference:GUPPY gene information display program (National Institute of Advanced Industrial Science and Technology) *Jumps to an external site