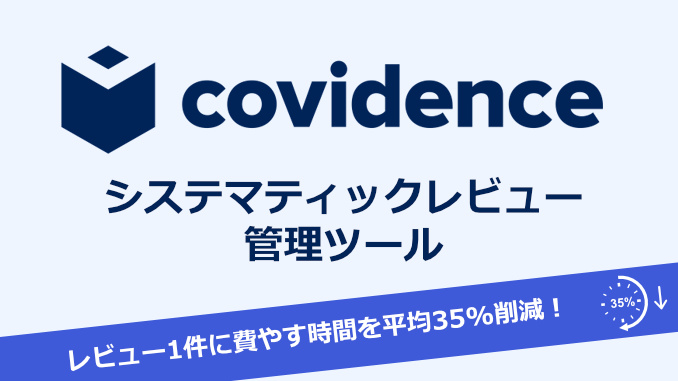 On the Unipos website, a management tool for systematic reviews "Covidencepage has been added.
Covidence is a tool with features for systematic reviews, including literature import, screening, and risk of bias assessment.Create a systematic review of medical researchCochraneIt has been adopted as a review production platform for , and supports reviews in various fields including healthcare, education, and social sciences.
Reference: Covidence introduction page in the Cochrane Community
https://community.cochrane.org/help/tools-and-software/covidence
Covidence reduces the time spent per review by an average of 1%, saving an average of 35 hours.It can also be used on the web, and because it is a simple platform, it is suitable for team collaboration with multiple people.
Functions and features of Covidence
The video below walks you through the Covidence capabilities through a systematic review process.
Import Citations/References
Works seamlessly with reference management tools such as EndNote, Zotero, Refworks, Mendeley, and any tool that supports RIS and PubMed formats.
Use of machine learning
Integrates with Cochrane's randomized controlled trial (RCT) classifier to quickly and accurately filter non-RCT studies.
Title and summary selection (screening)
Smooth screening with a nimble interface and keyword highlighting.Full record of who voted and supports 1 or 2 screeners.Open access studies can be automatically uploaded for full-text review.
Upload Reference
PDFs stored in reference management tools can be transferred to Covidence with a few clicks.
Full-text selection (screening)
Quickly judge the full text by highlighting keywords and phrases.Record exclusion reasons and notes so you can quickly resolve disagreements with the click of a button.
Data extraction
Create custom templates to suit your needs.Save time and reduce rework with the flexibility to extract data the way you need it and keep everyone on the same page during the process.
risk of bias
Text can be highlighted and commented directly in the PDF, and a risk of bias table can be generated automatically.
export
Can be exported to a single machine-readable file that can be integrated into popular statistical packages for continued review in the software of your choice.
About License
Covidence is an annual license.
For individual users with a limited number of reviews Single Plan, Package Plan In addition, it is suitable for use in organizations such as academic institutions, hospitals, and academic societies.Organization Plan We also have The Organizations Plan allows account administrators to have visibility and control over all systematic reviews and authors within their organization.
Covidence Single Plan
Number of reviews : 1
Number of reviewers: Unlimited
Covidence Package Plan
Number of reviews : Up to 3
Number of reviewers: Unlimited
Covidence Organizations Plan
Number of reviews : unlimited
Number of users: Unlimited
Number of collaborators (reviewers/collaborators): unlimited
Support: Unlimited
on the Organizations planClick here for details.
Try Covidence
You can use the Free Trial version by creating an account on the manufacturer site.Please register your name, email address, password, etc. from the link below and try it.
Sign up for FREE
https://app.covidence.org/signup/trial/new
The Free Trial version has limits on the number of references that can be screened and the number of reviewers that can be invited.For more informationherefor more information.