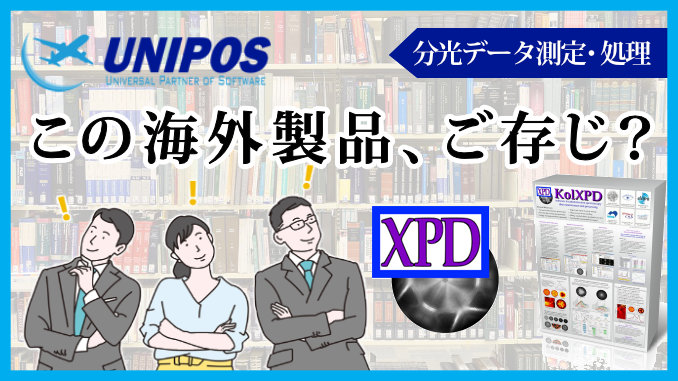 Photoelectron spectroscopy data analysis software for analysis of research data KolXPD I received an inquiry from
Today's materials research requires more data acquisition as well as spectral measurement, processing and analysis. Kolibrik'sKolXPDis software for surface science with a focus on photoemission spectroscopy.Previously, only perpetual licenses were sold, but now annual licenses are also available.We will introduce it together with the product features.
What is KolXPD
It is one of the most widely used software for analyzing XPS data. Peak fitting of XPS data is possible.
KolXPD videotutorial – easy photolectron spectroscopy data analysis
The above video is one of the video tutorials for photoemission spectroscopy data analysis.
A series of tasks such as importing 15 spectra, creating graphs, fitting peak data, and analyzing the results (peak fitting, quantitative evaluation using waterfall charts) can be completed in just 90 seconds.Data display and processing are fast, and it can be used for energy and angle resolution experiments.
*Other tutorialsPlease refer to the manufacturer's website
Major features
Focus on photoemission spectroscopy
High-speed data display and processing
Energy and angle resolved experiments
Import/export of various formats (SpecsLab, Spectra, Omicron, VG etc.)*
Capable of processing huge amounts of data
Fitting*, waterfall chart, quantitative preview
* KolXPD can be used to extend the reading, display, and analysis of Auger-yield NEXAFS images measured at the materials science beamline at Elettra, and to fit high-resolution spectra with Gaussian functions in the KolXPD program. is.
Related subjects and research fields
Surface chemistry (amides, bond energies, monomers, thin films)
Applications in materials and life sciences
X-ray photoelectron spectroscopy
plasma science, etc.
About the KolXPD license
As of February 2023, KolXPD has "perpetual license"satellite license, And "Annual licenseThere are three types of ".Both are full-version commercial licenses, and each license can be installed on one computer.
License type

KolXPD – perpetual license (perpetual license)
Perpetual license for the purchased version
KolXPD – satellite license (satellite license)
Licenses available for purchase by perpetual license holders
Can be installed on your home or personal computer
* Can be purchased at the same time as a permanent license or added later
KolXPD – 1-year license (annual license)
Licenses that require annual renewal
You can always use the new version during the license period
Try KolXPD
From the manufacturer's websitesetup.exe (executable file)You can download and try "KolXPD".
Click the purple button "DOWNLOAD KOLXPD" in the center of the page. Running setup.exe will guide you through the installation process.Works as a data viewer without activation.
Create trial license
Run KolXPD's setup.exe and click the button "Registration..." in the middle of the page, the license window will appear
Click "Generate trial license …"
An internet browser will open with a registration form
Enter the required information and click "Submit…"
A trial license will be generated
An activation file will be sent to the email address you entered
""Activation of a licensePlease complete the setup according to step 5 of ".."
Activation of a license
https://www.kolibrik.net/en/solutions-products/kolxpd/manuals/installation-and-activation-kolxpd
Reference information
The Elettra-Sincrotrone Trieste SCpA website provides information on KolXPD (information related to nonlinear intensity scales).I would appreciate it if you could refer to it.
Photoemission with synchrotron radiation (NEXAFS, RPES)
https://www.elettra.eu/lightsources/elettra/elettra-beamlines/msb/manual-endstation-xas.html
Photoemission with synchrotron radiation (ARPES, XPD)
https://www.elettra.eu/lightsources/elettra/elettra-beamlines/msb/manual-endstation-xpd.html

KolXPD has a function to correct detector non-linearity once the calibration file is provided
<https://www.elettra.eu/lightsources/elettra/elettra-beamlines/bach/nonlinearity/page-2.html?showall=
Photoemission with X-ray source
https://www.elettra.eu/lightsources/elettra/elettra-beamlines/msb/manual-endstation-xps.html