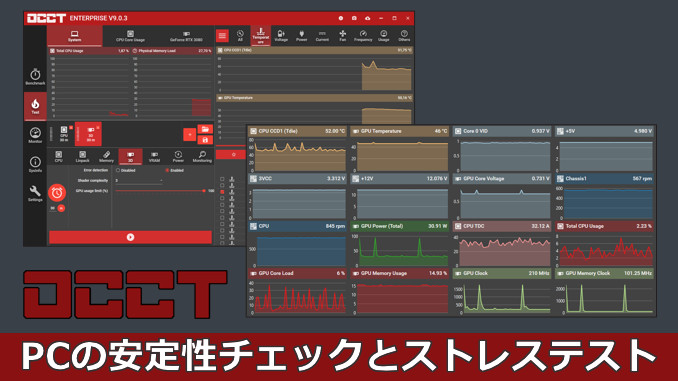 On the Unipos website, an all-in-one tool for checking PC stability and stress testing "OCCT Pro / OCCT Enterprisepage has been added.
OCCT is a PC diagnostic tool packed with stress testing, benchmarking and monitoring. It puts heavy load on PC components such as CPU, memory, GPU, VRAM and power supply and checks for errors, helping to quickly find stability issues.
For commercial use of OCCT, a paid license OCCT Pro or OCCT Enterprise is required.Unipos handles this paid license.
Functional features of OCCT
Perform powerful and efficient tests on various components of your PC (CPU, memory, GPU, VRAM, power supply)

Various data is displayed by the monitoring system information engine embedded in OCCT based on hardware information acquisition software HwInfo64.

Built-in benchmarks for CPU and memory, for example comparing overclocking results

Protect your computer from overheating by setting a maximum temperature threshold

Detect stability issues in seconds, run tests per core, and customize the instruction set and data size used for testing.

3D stress tests can be run without connecting a display.It is also possible to limit the 3D test load and stay within the limits of a particular GPU.

Since it is a single executable file, it can be executed by double-clicking the file from anywhere such as the desktop, USB memory, network folder, etc.

A graphical test report can be obtained at the end of the test.He can also export in CSV (Pro/Enterprise license only)

Test schedules (procedures) can be customized, and arbitrary combinations of tests can be executed continuously.It also outputs an HTML report containing system information, test results, and monitoring data in dynamic graphs (Enterprise license only)

Command line GUI automation function (Enterprise license only)
License type
For commercial use of OCCT, the following OCCT Pro or OCCT Enterprise license is required.Compared to the free version, each has the following features, so please choose according to the functions you need.
OcCT Pro
Available for commercial use
Can be used without waiting time between tests
Unlimited test time
Output of test report
CSV export function
OcCT Enterprise
In addition to the contents of OCCT Pro above
Command-line GUI automation (OCCT Command-line)
Custom features for test scheduling
HTML report function
* Please refer to the manufacturer page below for a more detailed function comparison table of each license.
About the manufacturer (OCBASE)
A French company that has been providing PC stability check tool OCCT for over 18 years.The company's PC diagnostic tool OCCT is a standard tool used by famous companies around the world.The tool is provided free of charge for individual users and has been downloaded more than 2003 million times since 2600.