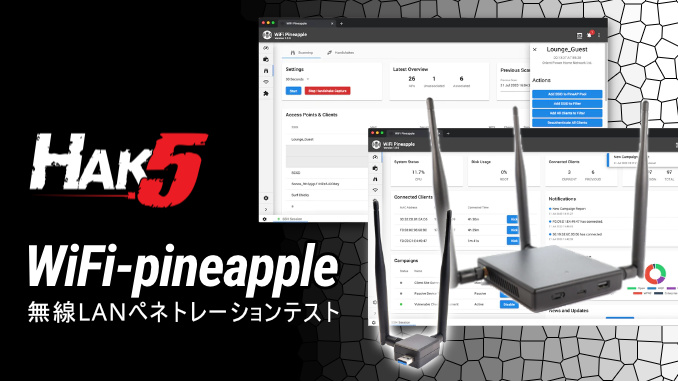 Wireless LAN pen test (penetration test) tool "Hak5 WiFi Pineapplepage has been added.
Wi-Fi Pineapple is Hak5's wireless audit platform that helps you conduct penetration tests.It can also be used as a rogue access point (AP) to perform man-in-the-middle (MitM) attacks.
About Hak5
Hak5, an expert in the field of information and IT security, was established in the United States in 2005 with the mission of "developing the Infosec industry."We do this through our award-winning podcasts, pentesting rigs, and inclusive communities.
Product type
WiFi Pineapple : A Low-Cost Portable WiFi Penetration Testing Tool
WiFi Pineapple Enterprise : A Robust WiFi Penetration Testing Tool
– Standard : Individual users who need the ability to identify WiFi network weaknesses and device vulnerabilities.
– Advanced: Military/Government Agencies and Security Teams requiring TAA, advanced auditing, and role-based access control
– Pentest : Teams requiring rapid remote pentesting according to industry standard PTES and NIST 800-115
MK7AC WiFi Adapter : WiFi adapter
USB Rubber Ducky : Hot plug that can systematically test the authentication system (brute force attack is also possible)
The above is an example of Hak5's products.When contacting us, please let us know the product name and URL.
An example of products handled: WiFi Pineapple Mark VII Basic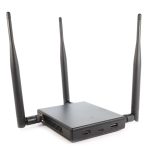 A portable WiFi penetration test device for the "red team", an organization that reveals vulnerabilities using attack methods actually used by attackers in cybersecurity. A WiFi penetration test can be used to comprehensively check the security of the current wireless LAN system.
User example
network security administrator
Red team
NEW Version 2.0 + 5 GHz Upgrade! 🍍 WiFi Pineapple Mark VII 🕶
Main functions / features
Identify vulnerable devices to rogue access points
Conducting regular automated audits
Utilization of cloud C2 for threat simulation and onsite monitoring
Complete visibility of your wireless environment
Direct attacks in real time from your dashboard
Acquisition of personal information from PSK (pre-shared key), corporate authentication, and targeted captive portals
Impact while staying within range of the attack target
Cross-platform compatible
Passive surveillance, etc.
WiFi Pineapple 7th Gen Web Interface
Main Specifications
2.4GHz 802.11b/g/n (5GHz/ac with module)
Single Core MIPS Network SoC
RAM 256MB RAM, 2GB EMMC
An example of accessories: MK7AC WiFi Adapter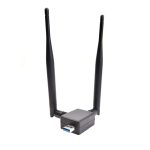 Dual band adapter (802.11ac/child device) for WiFi Pineapple Mark VII.
Major features
Compatible with WiFi Pineapple Mark VII
High compatibility with penetration testing tools (Linux)
Enables wide area WiFi monitoring and auditing
Main Specifications
2.4GHz 802.11 (a/b/g/n/ac), 5GHz
MediaTek MT7612U
2x High Gain RP-SMA Antennas
Other accessories such as Stubby Antenna 3 Pack, Kismet LED Module are also available.
When contacting us, please let us know the product name and URL.
* We handle many security-related products such as OSINT automation tools and digital forensics.See also product information below