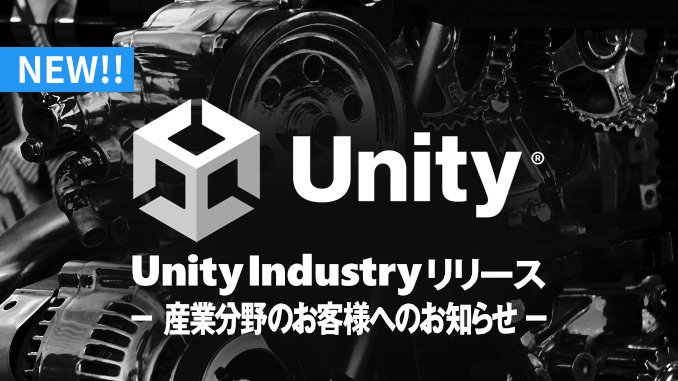 3D data can be rendered in real timeUnity" can create 3D models quickly and is used in a wide range of fields beyond games and video production.
This time, we have released a new product that is intended for use in the industrial field and have revised the manufacturer's terms.
Customers currently using Unity in the industrial field may need to change their license, so please check the article below.
New Product – Unity Industry
When using 3D data in the industrial field, different elements from game development are emphasized, such as development of highly original products, state-of-the-art technology and standards, support for devices, and speedy release.
Against this background, in April 2023, we launched the "Unity Industry" has been newly released.
Features of Unity Industry
Unity Industry is based on the functions of Unity Entereprise, and has added functions that take into account the uniqueness of the workflow and development products in the industrial field.
Helpful support and production tools for working in teams
Prompt assistance from a dedicated advisor
Over 40 3D, CAD and BIM files available as source data for real-time 3D platform
Advanced workflow for AR developers
Build test in on-premises environment is possible
For more information about Unity Industry, please visit the manufacturer page.
Unity Industry
https://unity.com/ja/products/unity-industry
Changes to License Purchasing Conditions
Due to the product line change, Unity Industry is now the preferred license for industry.
Also, the license purchase conditions have changed for users who use Unity in the industrial field.
* There are no changes to the purchase conditions for the development of games and entertainment products and use in educational institutions.
License purchase conditions for industrial applications
For industrial use only, the license that can be purchased varies depending on the financial situation.
If the amount of sales and fundraising in the past year is "1 million dollars (approximately 100 million yen) or more", the license that can be purchased is only Unity Industry (Enterprise, Pro cannot be purchased).
Also, Unity Plus can only be purchased if the amount of sales and funding in the past year is "less than $ 1 (about 20 million yen)".
Correspondence table between financial situation and licenses available for purchase
The last 1 yearsAmount of sales and funds raised
License types available for purchase
$ 100 million

Above

(Approximately 1.4 million yen)
Industry
$ 100 million

less than

(Approximately 1.4 million yen)
Industry, Enterprise, Pro

Less than $20 (about 2,800 million yen)
Industry, Enterprise, Pro, Plus
*The currency conversion rate in the table above is "1 dollar = 140 yen"
Please see the manufacturer page for details of the terms change.
Introducing Unity Industry
https://blog.unity.com/ja/industry/introducing-unity-industry
What is Industry in Unity?
For manufacturers, examples of industrial fields include automotive design, aerospace development, architecture, rapid prototyping, engineering, construction, development of systems for government agencies, energy, retail, and distribution, and the creation of AR experience content.
Whether or not the product is suitable for industrial use will be determined by the manufacturer, so please let us know the specific application when making inquiries.
For customers with annual sales/financing of $100 million or more
If you are currently using Unity Pro / Enterprise, you can continue to use your current license until your license expires.
However, after the license expires, new purchasing terms apply and require a new contract with Unity Industry.
Manufacturers provide a grace period for customers who need to migrate to Industry, and there are two ways to migrate.
Maintain:
How to renew as Pro/Enterprise for 1 year without moving to Industry


*Must meet certain conditions

Migrate now:
How to migrate to Industry on the next update


* By paying the upgrade fee, it is possible to move to Industry without waiting for the license period to expire.
You can maintain, or extend the usage period of your current license, if:
In addition, the extension of the usage period is only for one year, and it cannot be renewed for a period of two years or more.
Target: Customers whose license expiration date is between April 2023, 4 and April 3, 2024
renewal deadline: XNUM X Year X NUM X Month to X NUM X Day
For customers whose license expiration date is "October 2023, 10 or later",

It must be renewed before October 2023, 10.
About early renewal consultation
Inquiries and orders from manufacturers are expected to be concentrated just before the renewal deadline (October 2023, 10).
For customers who are eligible for migration to Industry and wish to continue using Pro / Enterprise even at the next renewal, please contact us as soon as possible, around the beginning of September.
---
Please feel free to contact us if you have any questions or consultations other than what we have announced this time.
* Tegara solves all worries about introducing overseas software with "No cost at all in case of trouble!" "No need to communicate with overseas manufacturers. Tegara reception, immediate response!" The original support pack "Anshin + Software" is also available.Please see the following page for details.