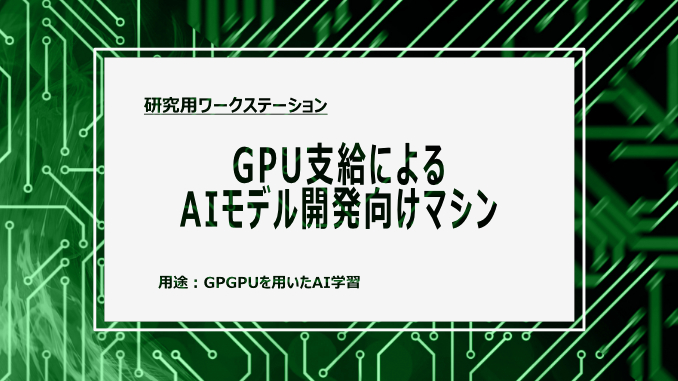 A customer involved in medical device research asked us about a machine for AI model development.
We would like a PC configuration that assumes that a number of video cards (NVIDIA RTX A4500, NVIDIA RTX A5000, NVIDIA RTX A6000) owned by the customer will be installed as supplied items.
In addition, the power supply is assumed to be in a 100V environment, and the housing is specified as a tower type.
Other desired conditions are as follows.
・CPU: Core i9 or higher
・Memory: 128GB or more
・Storage: 2x SSD of 2TB or more, HDD of 4TB or more
・GPU: Multiple supplied GPUs can be installed
・Power supply: For 100V environment
・OS: Windows 11 Professional
Based on this information, we proposed the following configuration.
CPU
Intel Xeon W7-3435X (3.10GHz 16 cores)
memory
128GB REG ECC
Storage 1
2TB SSD S-ATA
Storage 2
2TB SSD S-ATA
Storage 3
4TB HDD S-ATA
video
NVIDIA RTX A6000 x2 or
NVIDIA RTX A5000 x3 or
NVIDIA RTX A4500 x4 (supplied)
network
on board (1GbE x1 /10GbE x1)
Housing + power supply
Tower type housing + 1600W
OS
Microsoft Windows 11 Professional 64bit
If Core i9 is used, the maximum number of PCIe lanes will be 20 lanes, so only one video card can be connected with 16 lanes.Therefore, we have selected the latest Xeon W-1 series (maximum number of PCIe lanes: 2023) as of September 9.In this configuration, we have selected his Xeon W3400-112X, a 16-core model, but you can change it if you wish.
In addition, when assuming use in a 100V environment, the maximum number of video cards that can be installed is as follows.
| | |
| --- | --- |
| Nvidia RTX A4500 | 4 |
| Nvidia RTX A5000 | 3 |
| Nvidia RTX A6000 | 2 |
In the case of GPUs with the same model number, it is also possible to mix supplied items and newly purchased units.
The configuration of this case study is based on the conditions given by the customer.
We will flexibly propose machines according to your conditions, so please feel free to contact us even if you are considering different conditions than what is listed.
■ Keywords
・What is PCI Express (PCI-E/PCIe)?
PCI Express is an interface standard for high-speed data transfer in systems such as PCs and servers.Data is sent and received in units called lanes. PCI-E consists of one differential pair for transmission and one differential pair for reception. The transfer speed per lane varies depending on the version, but PCI-E 1 can transfer 1 Gbps per lane.
Also, PCI-E x1 slots have one lane and PCI-E x1 slots have four lanes.Therefore, a PCI-E x4 slot has four times the transfer speed of a PCI-E x4 slot.
Video cards require fast data transfer, so they are usually plugged into a PCI-E x16 slot, which has the maximum number of lanes.