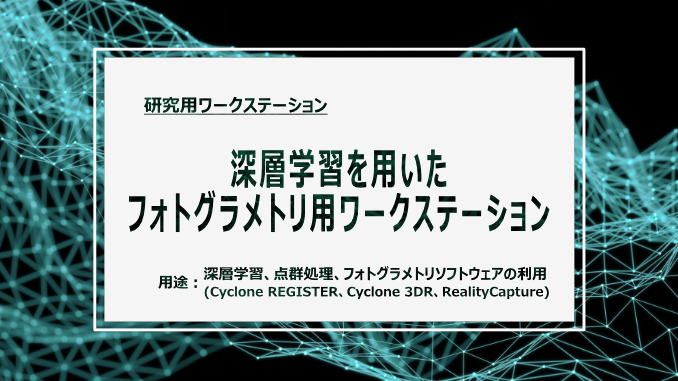 PC 8351Customers visiting our site have asked us to install machines that can handle deep learning, point cloud processing (Cyclone REGISTER, Cyclone 3DR), photogrammetry software (RealityCapture), etc.
The desired conditions are as follows, and we would like you to suggest an inexpensive configuration with a total VRAM of 4070 to 4 GB other than using NVIDIA Geforce RTX48 x 64 GPUs.
・CPU: Core i9 or Xeon (first choice is Core i9)
・Memory: 128GB or more
・Storage: 2~4TB SSD x2 for system use, several TB of SSD or HDD for data storage
・GPU: NVIDIA Geforce RTX4070 x4 (total VRAM installed capacity 48~64GB)
・Power supply: For 100V environment
・OS: Windows 11 Professional + Ubuntu 22.04 (dual boot configuration)
・Software used: PyTorch, CUDA, Cyclone Register, Cyclone 3DR, Trimble RealWorks, CloudCompare, RealityCapture, etc.
・Budget: About 160 million yen
NVIDIA Geforce RTX4070 is larger than a general video card, so it is impossible to install 1 of them in one machine due to specifications.
It is possible to achieve a VRAM capacity of 48 to 64 GB by installing a separate product video card, but if you use the latest 2023th generation Intel Core series as of September 9, due to the limitation of the number of PCI-Express lanes. , it is not possible to connect two or more video cards with 13 lanes.
There is also a way to change the base configuration and install two RTX4090 (installed VRAM: 24GB), but in that case, the maximum power consumption will increase and there will be no power capacity margin when operating in a 2V environment. I'll put it away.
After providing this information, we reconfirmed your wishes for the configuration.
As a result, they agreed to change the video card configuration and also informed us of the following requests.
・M.2 SSD is preferable to SATA SSD.
・I would like to install as many HDDs for data as possible within the budget.
・I would like the power supply to be 1000W with plenty of room.
・Water-cooled CPU cooler is desired.
We proposed the following configuration according to the customer's wishes, including additional conditions.
| | |
| --- | --- |
| CPU | Core i9-13900K (3.00GHz 8-core + 2.20GHz 16-core) |
| memory | 128GB |
| Storage 1 | For system: 2TB SSD M.2 x2 For data: 2TB SSD M.2 x2 |
| Storage 2 | For data: 10TB HDD S-ATA x3 |
| video | NVIDIA RTX A6000 48GB |
| network | on board (2.5GBase-T x1) Wi-Fi x1 |
| Housing + power supply | Middle tower case + 1000W |
| OS | Microsoft Windows 11 Professional 64bit + Ubuntu 22.04 (dual boot configuration) |
The CPU is equipped with the latest generation Intel Core series Intel Core i9-13900K.
Storage is equipped with 2 x 2TB SSD M.2 for system disks, and 2 x 2TB SSD M.2 and 10 x 3TB HDD SATA for data disks, in accordance with customer requests.
Regarding the video card, we selected the NVIDIA RTX A1, a high-end video card for workstations equipped with 48GB of VRAM.
The TDP of NVIDIA RTX A6000 is 300W (about 4090/2 of NVIDIA Geforce RTX3), so it can be used in a 100V environment without any problems.
The NVIDIA RTX A6000's installed VRAM of 48GB is the largest installed amount for a video card product equipped with display output as of September 2023.
Regarding the power supply, the estimated maximum power consumption is approximately 610W, so operation in a 100V environment is possible.
In addition, the power supply capacity is set to a generous 1000W, in accordance with customer requests.
Regarding the CPU cooler, we also have a water cooler installed according to your request.
Regarding memory capacity, 128GB is the upper limit according to specifications.
The configuration of this case study is based on the conditions given by the customer.
We will flexibly propose machines according to your conditions, so please feel free to contact us even if you are considering different conditions than what is listed.
■ Keywords
・What is Cyclone REGISTER?
Cyclone REGISTER is a synthesis and coordinate identification software that converts laser scan data into coordinates.Automation features, easy-to-use wizards, and powerful algorithms make it easy to work with even the largest datasets.
reference:Leica Cyclone REGISTER | Leica Geosystems *Jumps to an external site
・What is Cyclone 3DR?
Cyclone 3DR is software that seamlessly works with Cyclone FIELD 360, which collects data in the field, and Cyclone REGISTER 360, which synthesizes acquired point cloud data, to create deliverables using point cloud data.Equipped with a wide range of flexible inspection tools and mesh creation functions, it is possible to create a variety of 3D deliverables and reports.
Reference: Leica Cyclone 3DR | Leica Geosystems *Jumps to an external site
・What is Reality Capture?
RealityCapture is software for creating 3D models by combining data from photos, drones, laser rangefinders, etc.It can automatically process point cloud data and create precise, high-quality 3D models.Due to its high-speed processing and flexible output format, it is used in a wide range of fields including architecture, civil engineering, film and game production.
Reference: RealityCapture | Epic Games, Inc.*Jumps to an external site
・What is Deep Learning?
DeepLearning is a type of machine learning that uses multilayer neural networks to perform advanced pattern recognition and prediction.Since it generally requires a large amount of data, it is considered an effective method when data is abundant.DeepLearning is also widely used in fields such as image recognition, speech recognition, and natural language processing.Because it can learn complex features and relationships, it can achieve higher accuracy than traditional machine learning methods.
Reference: [Special article] What is machine learning? * Jump to our owned media "TEGAKARI"
・What is Python?
Python is an object-oriented programming language copyrighted by the Python Software Foundation (PSF).Its programming syntax is simple, making it highly readable, and it also features a wide variety of components, such as libraries and frameworks, that are suitable for different purposes.A popular language for programming beginners to advanced users.
・What is CloudCompare?
CloudCompare is an open source 3D point cloud data processing software.It was originally developed for comparison between three-dimensional point clouds and triangular meshes recorded by laser scanners, etc., but has evolved into more general-purpose software.You can draw and edit 3D point clouds and triangular meshes for free.
・What is Trimble RealWorks?
Trimble RealWorks is software that can convert dense data imported from 3D scanners into convincing 3D data.It is possible to comprehensively and intuitively manage, process, and analyze complex large-volume data files containing millions of points.
Reference: Trimble RealWorks | Office Software | Trimble Geospatial■jump to external site