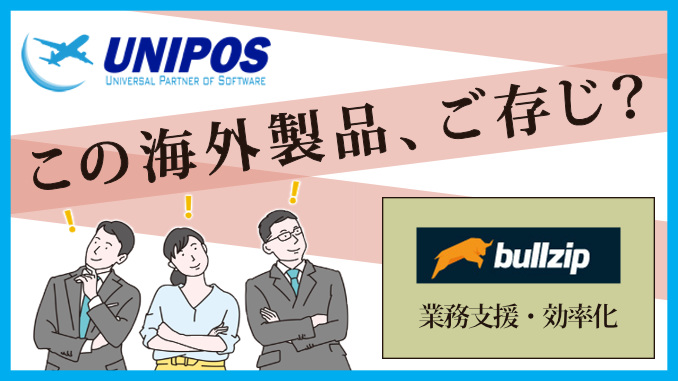 In response to the recent wave of DX, an increasing number of customers are considering improving their core systems, such as introducing ERP packages to improve operational efficiency and incorporating them into in-house developed software.
Therefore, this time, we will introduce "PDF Printer", a PDF printer for Windows applications from Bullzip.com (Denmark), a tool that is useful for converting documents to PDF, related to "paperless", one of the important issues of DX conversion.
PDF printerWhat is it?


Bullzip PDF Printer is a virtual printer tool that allows you to easily create PDFs from Windows applications.It supports almost all Microsoft Windows applications (Microsoft Office, Microsoft Edge, etc.), and you can easily generate PDF document files just like printing on paper.
It also comes with security features such as encryption and digital signatures, as well as convenient functions necessary for digital processing such as adding background watermarks and stamps (electronic seals).
Main functions
Print to PDF from almost any Windows program
Supports 64-bit OS
Preferences and output destination settings related to displaying and displaying PDF files
Graphical user interface
Password protection of PDF documents
Encryption (standard 128/40-bit encryption and AES 256/128-bit encryption)
Quality settings (screen, printer, e-book, prepress quality)
Document property settings
Watermark text, size, rotation, transparency
document superimpose/background

Add prepend() method

User interface controls
Linearize PDF documents for faster web viewing
PDF/A-1b support for long-term retention of PDF documents
Digital certificate signing of PDF documents
Output Types: BMP, JPEG, PCX, PDF, PNG, and TIFF
*Equipped functions differ depending on the Edition.
For details on the functions of each edition,Please refer to here.
About License
Bullzip PDF PrinterPerpetual license(includes 1 year of maintenance and technical support).It is also possible to renew the maintenance contract approximately one year after purchase.
Edition type
Bullzip PDF Printer has only basic functionsStandard, the best for business with many featuresProfessional, high-performance printers suitable for legal documents, as well as advanced security and printing functions.ExpertThere are three editions of
Each edition can be installed on one machine per licenseSingle user license, suitable for use by a large number of users within an organizationLarge Organizationsfor , nonprofits and educational institutionsNo profit, and a license for developersDevelopersthere is.Please select according to your usage environment.
Example) Professional Edition example
Edition
User/Environment
License details
Professional
single users
1 license can be installed on 1 machine (1 machine is counted as 1 user)
Volume Licensing
Volume discount applies for 2 or more licenses
Large Organizations
Usage by a large number of users within an organization
・Small / Medium Business
・Enterprise
・Large Enterprise
No profit
Nonprofit and educational use
・Educational
・Non-profit
Developers
For developers
・Server/Web/Batch (*Professional/Expert)
・Limited Redistribution
・Extended Redistribution
*Bullzip PDF Printer supports Microsoft Terminal Server, RDP (Remote Desktop Protocol), and Citrix Metaframe environments.
When installing to Terminal Server, RDP, Citrix, the method for counting users isThe number of named users that will be logged into the serverIt becomes.
First step of DX conversion, first from paperless
Documents should be saved as PDF documents, not paper-based.
For example, in some cases, the client side can freely select a printer for forms output through a core system, and in other cases, it is limited to a specific printer linked to the server.
In such cases, it is very convenient to install Bullzip PDF Printer for one printer server. To create a PDF, simply select the Bullzip PDF Printer as your printer when printing.You can easily set the paper size, output, print quality, and save destination when printing, and you can immediately display the created PDF document and check the contents.
* When installing to a printer server, it must be set to Professional Edition or higher."Server/Web/Batch Processing" One license is required for each printer server.
PDF printertry out
A free version (Community Edition) is available for small users (personal and commercial use up to 10 users).
From the manufacturer's website below,PDF printercan be downloaded.
Bullzip PDF Printer
* Click "Click here to download" or "Download PDF Printer setup (for offline)" to start downloading the executable file.
System requirements
Microsoft Windows Server 2019, 2016, 2012, 2008 R2, 2008, Windows 11, Windows 10, 8.1, 8, 7, XP
GPL Ghostscript 9.10 or later
Xpdf (optional)
PDF Power Tool (optional)
How To Use
Check out our video guide on the Bullzip YouTube channel.
Bullzip Video Guides
https://www.youtube.com/channel/UCTu5S1BT0II-NC78LpfEFHg
A commercial version is required for commercial applications that are used by 10 or more users.If you are considering purchasing a license, please contact Unipos (you can also contact us using the inquiry form below).